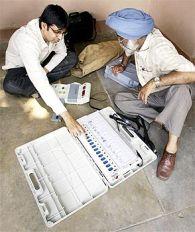 Former President A P J Abdul Kalam was among a large number of voters in several constituencies in Delhi who on Wednesday faced problems while exercising their franchise because of the malfunctioning of Electronic Voting Machines.
As the electronic voting machine did not function properly, Kalam, who had gone to a polling booth at K Kamraj Marg in New Delhi constituency, waited for some time and then returned home.
He came back after an hour when the fault was rectified and polling started smoothly.
Voting was also delayed by around an hour at the Aurangzeb Lane polling station due to malfunctioning of the EVM.
Congress Vice President Rahul Gandhi, senior Bharatiya Janata Party leader L K Advani's daughter Pratibha and Sunil Bharti Mittal cast their votes at this polling station.
People in many polling booths in Tughlaqabad, Karol Bagh, Trilokpuri, Jungpura and Badarpur said they had to wait for a long time to cast their votes due to snags in EVMs.
An EVM in Bhogal area in Jungpura constituency developed a snag early in the morning which was fixed by EC officials. Voters who had exercised their franchise were asked to recast their votes again.
"One of the EVMs developed a technical snag, following which we called in the technical staff and the machine was replaced. Twelve people who had cast their votes were asked to recast them," a polling official said.
Election Commission officials admitted that there were glitches in the EVMs in several constituencies but said they were replaced within the first hour of polling.
"We have replaced a total of 112 EVMs," said an EC official.
There were several complaints of malfunctioning EVMs from many assembly constituencies.