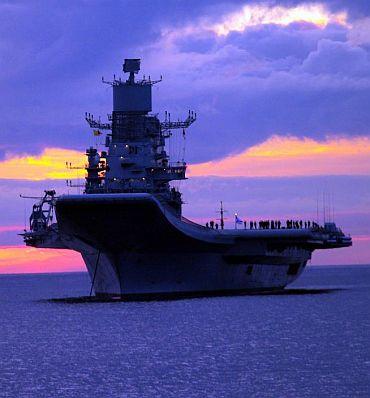 The Indian Navy tested its war machinery in series of month-long drill in the Indian Ocean. RS Chauhan reports

The Indian Navy concluded a successful month-long exercise in the Indian Ocean on Friday night.
The exercise, involving three-fourths of the Navy's front line assets, tested various new platforms and concepts even as the tragedy of the accident on board INS Sindhuratna and the resignation of its Chief Admiral D K Joshi hit headlines earlier this week.
Navy sources said for the first time exercise was conducted against the backdrop of two completely networked fleets, widely dispersed across the Indian Ocean Region, operating in a dense maritime environment.

India's first indigenously-made military satellite was also tested and proved.

Over 60 ships of all kinds and 75 aircraft of both the Navy and the Indian Air Force participated in the exercise, sources added.

Ships and aircraft of both the eastern and western fleets were engaged in the month-long major exercise.

Participating units included India's aging aircraft carrier INS Viraat and nuclear submarine INS Chakra, leased from Russia.

The recently-acquired P8i Boeing reconnaissance and anti-submarine aircraft was also seen in action for the first time.

As part of the drills, missiles and torpedoes were test fired.

This year's exercise also witnessed the maiden participation of the Hawk fighter trainer aircraft.

Besides Unmanned Aerial Vehicles and Airborne Early Warning helicopter of the Indian Navy, air-to-air refuellers, Jaguars and Sukhoi aircraft of IAF were deployed during the exercise.