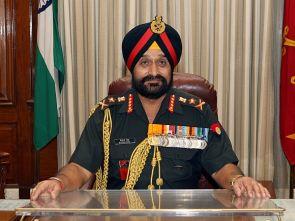 Operationalisation of a new border defence agreement to deal with recurring troop incursions along the LAC besides improving defence ties, is expected to top the agenda of General Bikram Singh as he starts a rare visit by an Indian army chief to China from Wednesday.
"Currently India and China maintain exchanges and cooperation at various levels. This is very significant for the two countries," Chinese Foreign Ministry spokesman Hong Lei said."
"The visit you mentioned will be an important event in military to military exchanges between China and India," he said commenting on Singh's visit at a media briefing.
"We wish full success of this visit so that the mutual trust between the two armies can be enhanced," he said.
To deal with tensions arising out of the incursions by both sides, India and China signed the Border Defence Cooperation Agreement last year.
Singh's visit was aimed at implementing a number of steps incorporated by BDCA on the ground, officials said.
The Indian army chief's four-day visit is taking place after a gap of nine years.
Former army chief Gen N C Vij visited China in 2005 after which military ties remained frozen until the last two years when defence ties gained momentum following improvement in political and economic relations.
Earlier commenting on Singh's visit, the People's Liberation Army said it is part of efforts by the two defence establishments and the two militaries to conduct a number of important military exchanges.
Issues of common concern, such as the relations between the two countries and the two militaries, the regional security situation was expected to figure in the talks besides arrangement for the fourth China-India Joint Counter-terrorism Training exercises, a PLA spokesman said.
Indian officials said Singh who is also the Chairman of Joint Chiefs of Staff Committee of the armed forces would hold talks with top echelons of the PLA including Gen Fan Changlong, the Vice Chairman of China's Military Commission.