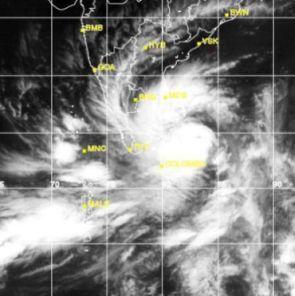 A deep depression over the Bay of Bengal crossed the coast near Nagapattinam in Tamil Nadu on Saturday afternoon.
"The depression over southwest Bay of Bengal crossed Tamil Nadu coast near Nagapattinam between 1230 and 1330 hrs IST of today," the Indian Meteorological Department said.
Hundreds of trees were uprooted and banana plantations in many parts in Nagapattinam were damaged following gusty winds since morning.
Electric posts were damaged in Sirkazhi with the power supply suspended in most parts of the district as a precautionary measure. At Vellapallam village near Tarangambadi, a fish auction hall building was damaged due to strong winds. At Darkas area in Sirkazhi, the roof of a school building flew off due to squally winds.
The sea condition was very rough and high tides were visible in many places. More than 10,000 fishermen did not venture into the sea.
Meanwhile, senior IAS officer Basheer Ahmed, who has been appointed as Monitoring Officer for Nagapattinam district, held a meeting with District Collector T Munusamy, Superintendent of Police Maheswar Kalidoss and officials of various departments.
A 24-hour control room has been set up at the Collectorate.
With the depression crossing the coast, regional weather office forecast heavy rains in northern districts and rains in southern districts of Tamil Nadu for the next 24 hours.
Chennai and surrounding areas witnessed intermittent showers while fishermen stayed away from the sea.