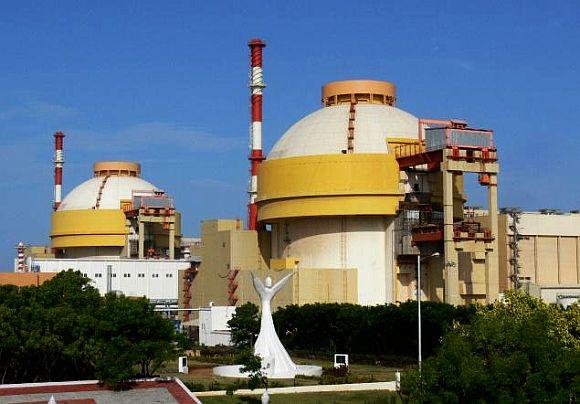 An agreement on the setting up of Unit three and four of the Russian-assisted Kudankulam Nuclear Power Project in Tamil Nadu is likely to be signed in the "near future", India said on Friday, indicating the possibility during Prime Minister Manmohan Singh's visit to Moscow next week.
Briefing the media on the upcoming five-day visit of the prime minister to Russia and China starting Sunday, Foreign Secretary Sujatha Singh refused to go into details of any agreement or answer questions regarding the issue of nuclear liability for suppliers of equipment like reactors.
"We hope to conclude specific contracts in the near future. Near future means, near future. Let's see. The companies are discussing issues -- technical, legal and financial," she said in reply to a question whether a deal on setting up of two fresh reactors in the project would be signed during the visit and whether Russia's concerns on nuclear liability issues have been resolved.
Singh said the first unit of the project had attained criticality earlier this year and the second unit next year."The companies are finalising documents," she said. Government sources said India has suggested outlined the insurance parameters like the quantum of risk involved for the Russian suppliers and other issues for clinching a deal Singh's visit.
Russia and India have an inter-governmental agreement on the Kudankulam project and Moscow and individual Russian companies have concerns over the liability clause in the nuclear liability act in India.
Making his fifth visit to Moscow for the India-Russia annual summit, the tenth of its kind, Singh would be meeting President Vladimir Putin on Oct 21 for extensive discussions to deepen the strategic relationship between the two countries.