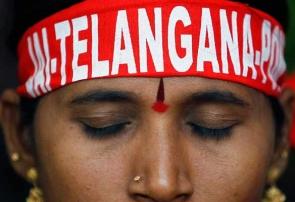 If the government chooses bifurcation it is likely to add two Rayalaseema districts -- Anantpur and Kurnool -- to Telangana, and Kadapa and Chittoor to Andhra. Vicky Nanjappa reports
All eyes are on the crucial Congress core group meeting on Friday evening, which is expected to arrive at a decision on demands for a separate Telangana state. Few are optimistic about a solution in favour of Telangana and say that the Congress is likely to drag the issue.

But what if the party springs a surprise and makes an announcement? In such circumstances, Andhra Pradesh will be split into two states and the Rayalaseema region would cease to exist. If the government opts for bifurcation there would be two states -- the state of Hyderabad and the state of Andhra Pradesh.
While Congress leaders continue to quote various constitutional amendments that are required to form the state as a hurdle, the real problem they face is from the Telangana Rashtriya Samithi and Jaganmohan Reddy's YSR Congress. With the Congress unable to woo these parties, they have planned to do away with Rayalseema. This, they feel, is likely to work in their favour.
Although the Congress may not win the elections, there is a likelihood of a hung house. This will ensure that the party will be in the reckoning when the government has to be formed in 2014.
The plan of the Congress is to add two districts each from Rayalaseema to Telangana and Andhra. There are four districts in Rayalaseema namely Kurnool, Anantpur, Chittoor and Kadapa (the constituency of Jagan). The YSR Congress has a stronghold over Rayalaseema. The two Rayalaseema districts in the new state will affect Jagan in terms of vote share. The plan is to include Anantpur and Kurnool in Telangana. These two districts have 28 assembly seats. With these districts included, Telangana would comprise 118 constituencies. However, this would pose a problem for the TRS, which has no influence in Kurnool and Anantpur. The fight for the 28 seats would then be between the YSR and the Congress.
For the remaining 90 seats, the Congress and the TRS would be pitted against each other with the latter finding it difficult to get a majority in the new state on its own.
The Congress also proposes to include Kadapa and Chittoor into the Andhra region. The Andhra region has 120 seats in all and if these two districts are included then another 28 constituencies would be added to it. As a result, the battle for Andhra will be between Chandrababu Naidu's Telugu Desam Party, the Congress and YSR Congress. But the inclusion of Kadapa and Chittoor from Rayalaseema in Andhra will hurt the TDP.

For now, both the TRS and the YSR Congress are non-committal about any sort of alliance with the Congress. Despite facing pressure from the Congress, they have decided to go it alone in 2014. An alliance will be considered by these parties only after the elections.

Image: A pro-Telangana supporter during a protest in New Delhi in November 2011
Photograph: Adnan Abidi/Reuters