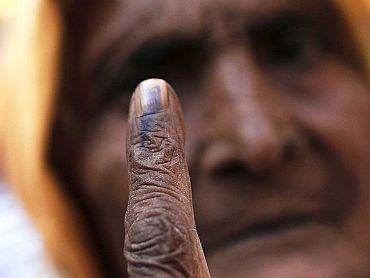 Probodh Panda and Atul Kumar Anjaan are among 39 candidates declared by the Communist Party of India for the upcoming Lok Sabha polls as the party said that it would fight on 60 seats in 24 states. The party also hoped that a non-Congress non-Bharatiya Janata Party formation would come to power at the Centre.
The party said that Gurudas Dasgupta would not contest the election as he had announced earlier. Among the candidates that the party has announced is Probodh Panda from Midnapore in West Bengal who is the sitting member of Parliament.
The other two names announced from West Bengal are former member of Legislative Assembly Santosh Rana from Ghatal and Nurul Huda from Bashirhat. Another prominent name in the list is Atul Kumar Anjaan who would contest from Ghosi in Uttar Pradesh.
In a statement released here the party said that the CPI National Council has decided to continue efforts to have poll adjustment with secular democratic parties. Apart from West Bengal and UP, the other states from which the party would field candidates are Assam, Manipur, Haryana, Gujarat, Maharashtra, Rajasthan, Chhattisgarh, Jharkhand, Karnataka, Uttrakhand, MP, Bihar, Goa, Lakshdweep and Delhi.
The party has identified constituencies in Kerala, Punjab and Odisha but candidates would be named later. Candidates and constituencies in Tamil Nadu will also be decided later. In a statement released here party General Secretary S Sudhakar Reddy said that "After milking the pliable United Progressive Alliance-II government to the maximum, the Corporate Capital and international finance capital is bidding for a more subservient regime.
"It has opted for BJP's prime ministerial nominee Narendra Modi who stinks of blood since 2002 and is known for his authoritarian mentality." It said the coming electoral battle is for protecting the economic sovereignty of the country, for alternative pro-people policies and for a regime that alters the course of neo-liberalism to which the Congress and the BJP are committed.