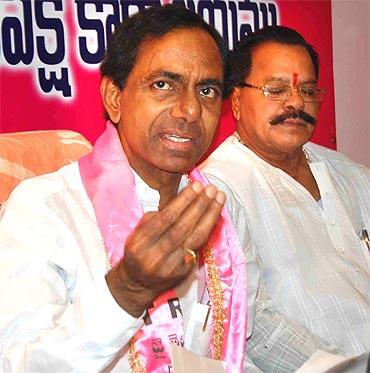 Telangana Rashtriya Samithi chief K Chandrasekhar Rao meets Rahul; reportedly open for alliance in the Lok Sabha polls if he can get to be the CM of the new state, says Kavita Chowdhury
With the new state of Telangana now almost a reality, K Chandrasekhar Rao, chief of the Telangana Rashtriya Samithi, on Monday met Congress party vice-president Rahul Gandhi amid speculation on the talks between the two parties.
Much earlier, the TRS had said it was prepared to merge with the Congress if their statehood demand was met. Now, it seems a pre-poll alliance between the two is likely. The regional party now wants to retain an independent identity and go into the 2014 polls. At best, it would ally with the Congress. The latter wishes to make good its likely electoral loss after the separation of the rest of Andhra.
Congress party spokesperson Abhishek Manu Singhvi told media persons that parleys between the two sides were underway and it would be premature to say anything. Digvijaya Singh, the party's general secretary in charge of Andhra Pradesh, is likely to have further talks with the TRS leadership.
Rao and his family met Congress President Sonia Gandhi on Sunday, ostensibly to thank her for pushing through the Telangana Bill amid much odds.
Sources maintain he is now insisting on being chief minister in the new state, in return for letting the Congress contest the majority of seats in the Lok Sabha polls; TRS would get a majority of seats for the legislative assembly polls.
"We are insisting also on maintaining major control of the state, as states develop best under a regional party," said a TRS leader. The Congress had been banking on bagging the 17 Lok Sabha seats in Telangana region in an arrangement with the TRS. However, as Andhra will go to the Lok Sabha polls as one state, both assembly and Lok Sabha, the arrangement would be political rather than administrative.
Congress sources said it was not only the TRS which was diffident about a complete merger with the Congress. Seniors such as Jaipal Reddy, who intend to play a big role in the new state, would not be keen to work under KCR.
TRS workers from Hyderabad told Business Standard, "As far as we are concerned, whatever be the outcome, we will go in to the elections under the gulabi (pink) flag. That's how our voters know us and that's how we can hope to win. Merging our identity with a national party will not serve us any good in the state."
Meanwhile, the Congress leadership is also working on plans for the Seema-Andhra (non-Telangana) region. Digvijaya Singh is to meet seniors from there on Tuesday, to explore possibilities on forming a government under a new chief minister or, alternatively, opting for President's Rule.