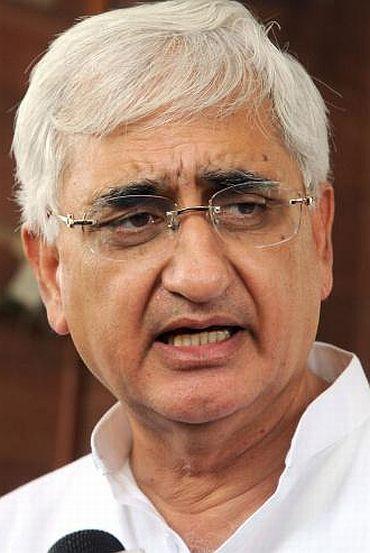 There is disquiet within the Congress party about Foreign Minister Salman Khurshid's May 9 China visit.
A senior party leader who matters in such issues told rediff.com, in off the record conversation, that it is not prudent on part of Khurshid to visit China when China is not interested in status quo at the borders.
When the Congress is under attack from all sides and when serious diplomatic issues with Pakistan is raging on after facing the problems with Sri Lanka just few months back, a Congressman asks, why can't China visit of Salman wait?
Interestingly, while briefing rediff.com on broader issues of China, a senior official tackling national security and other issues said, "Why is Salman so keen to show softness? According to me, Salman should have done some posturing -- I would not visit Beijing unless China restores the status quo -- such stance would have brought result. Instead, he has expressed his eagerness to go. In the process he gave away a bargaining chip."
The officer who deals with the foreign policy issues actively, also said, " Salman should have told China that "a tent" within Indian territory will caste a shadow on his visit."
The government source also said that Chinese troops that are 19 kilometres on side of the Indian territory at Raki Nala in the Depsang Bulge area are NOT a military sponsored march. It doesn't have the trait of the Chinese military.
Army Chief General Bikram Singh, while briefing the Cabinet Committee on Security, on Wednesday, told the prime minister and others who were present, " We can handle the Chinese incursion. Please, leave it to us."
It was decided at the CCS that Khurshid should go to Beijing but the Congress is wary of the issue of "squatting of Chinese troops within the Indian territory" blowing up before voting in Karnataka. Also, Gujarat Chief Minister Narendra Modi is using the issue flippantly in his speeches in election campaign.
The source in government who is dealing with China since quite sometime said, "The incident at the border reminds us that India and China both know that the future belongs to them. They know they share periphery. They have common neighbours. These are times when both are indulging in posturing for future advantage."
He added, "China is indirectly telling India that in spite of issues with Taiwan, Japan and Vietnam, it is not going to give away any advantage to India while settling border issues. This is China's way of saying that they are not going to be soft on this side of border."
The current tension with China shows, the officer explained, "That India and China's relations will never be static. They will never be simple. They will have element of competition and co-operation, simultaneously."
The officer said in view of the quality of relationship both side know the importance of status quo at the border. Khurshid's visit was fixed before the Chinese erected a tent inside the Indian territory. One of the explanations of Khurshid's visit was that he is going for preparation of Chinese Premier Li Keqiang's visit to India on 20 May. Li is expected on May 19 evening in New Delhi and after that he will be in Mumbai.
The government and the Congress are in a fix. If Khurshid visits Beijing with India paying too much attention on the border incursion by China's People's Liberation Army, then people will ask for deliverables from Khurshid's visit which are uncertain, so far.
If, Khurshid cancels the visit, it will send out the wrong signals. It will be construed as India raising its level of resentment. It can, possibly, jeopardise Premier Li's visit. Again, it will become a big issue if not handled carefully, now.
From the border incursion to diplomatic tussle to political confrontation -- the transition of the issue will have serious implications.
Khurshid's visit is looking dicey due to the Congress' reservation. A senior security expert's doubt about Khurshid's projection of a soft approach is also a valid point.
But, the fact remains that Salman's visit to Beijing or its cancellation, both will impact the bilateral relations.