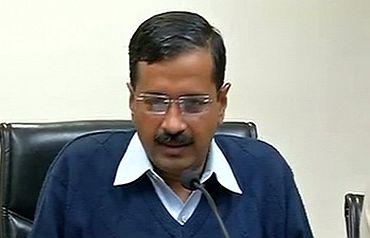 A press conference by Delhi Chief Minister Arvind Kejriwal was disrupted on Thursday by a Congress lawmaker demanding appointment of a Special Investigation Team to probe the 2008 Batla House encounter.
Asif Mohammed Khan, MLA from the Okhla constituency, barged into the press conference at the Delhi secretariat and started shouting slogans against the AAP, calling the Delhi government "radio jhootistan" (liars).
"These people are making false promises. They have betrayed Delhi. The Congress should withdraw support," Khan said.
Khan caused the disruption after Kejriwal, in reply to a question, said that Delhi government would not form a SIT to investigate the encounter.
Earlier, Kejriwal said a court has already given its verdict in the case and the government respected the judicial process.
"A court has already given its verdict in the case and we respect the court order. We are not appointing any SIT into the case," the Delhi CM said.
Almost immediately after Kejriwal's remark, Khan barged into the venue of the press conference and started shouting slogans. The CM's security tried to stop Khan but he kept shouting.
The Delhi government had on Wednesday decided on a probe by SIT into the 1984 anti-Sikh riots, two days after Congress Vice President Rahul Gandhi said some of the party men were probably involved in the violence but were punished.
Khan said he will not extend support to the AAP government in any legislative business and does not care if the Congress takes disciplinary action against him.
Last year, a trial court had convicted suspected Indian Mujahideen terrorist Shahzad Ahmed in the Batla House encounter case and sentenced him to life imprisonment.

Image: Delhi Chief Minister Arvind Kejriwal was holding a press conference on his one-month in office, which he completed on Tuesday