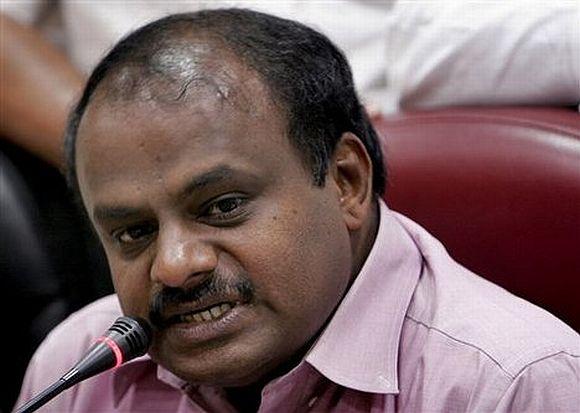 Taking a swipe at United Progressive AllianceChairperson Sonia Gandhi's recent visit to Dakshin Kannada, former Chief Minister and state Janata Dal-Secular President H D Kumaraswamy on Monday claimed the Congress in Karnataka has no political strategy in place to win next year's assembly election and JD-S is the real opposition party which could address people's problems.
"Sonia Gandhi has cast aspersions on the Bharatiya Janata Party and its misrule in the state, but hardly won people's trust. The Congress has no political strategy to contest ensuing assembly elections next year," he told a JDS convention in Mangalore.   
Kumaraswamy said a national party should not lower itself to the level of not having a strategy to contest elections other than pointing fingers at other parties. "In this circumstance, the JD-S is the real opposition in the state."
Kumaraswamy flayed former Chief Minister B S Yeddyurappa and said that the latter was claiming that if he was given five years he would surpass Gujarat Chief Minister
Narendra Modi in development. During his reign, debt went up from Rs 50,000 crore to Rs 1.16 lakh crore,he claimed.
VAT was increased from 12.5 per cent to 14 per cent, and widow and handicap pension schemes at Rs 400 per month introduced by him were stopped, Kumaraswamy said. The occasion also marked the celebration of 'Valmiki Jayanti.'