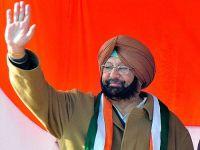 The Congress on Tuesday removed Amarinder Singh as its Punjab unit chief in the backdrop of the party's dismal show in assembly elections last year and appointed MP Pratap Singh Bajwa in his place.
Rajasthan MP Harish Chaudhary has been made the All India Congress Committee secretary and will be the party in-charge of Punjab.
Chaudhary will be attached as the in-charge of Punjab and look after party affairs in the state, a release quoted AICC general secretary Janardan Dwivedi as saying.
Gulchain Singh Charak is the AICC general secretary in-charge for Punjab.
The talk of a change in Punjab unit of Congress has been going for more than a year ever since the party's defeat at the hands of the Shiromani Akali Dal-Bharatiya Janata Party alliance in the assembly elections in January last year, where the ruling coalition created history by coming back to power.
The recent Moga bye-poll loss seems to have precipitated the change. Congress lost to the Akalis in the bye-poll after its MLA quit the party and re-contested as SAD candidate.
Amarinder Singh has been under attack within the party for his style of functioning. Demands for replacing him were made by various sections in the party.
Bajwa is relatively younger to Amarinder Singh and a first time MP.