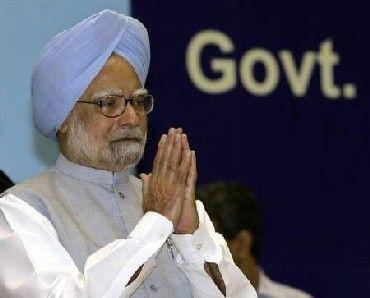 Prime Minister Manmohan Singh decided against attending the Commonwealth Heads Of Government Meeting summit as he was pressed by "competing sentiments" in India about outstanding issues with Sri Lanka and domestic compulsions like polls in five states, External Affairs Minister Salman Khurshid has said.
"I imagine a lot of things were factored in," Khurshid told CNN in an interview when asked why the Prime Minister did not attend the CHOGM in Colombo.
"We are now into five elections and important elections, the last round of elections before the general elections some time in the middle of next year. We are also handling some very, very critical economic issues including issues which are far-reaching reform issues, some of which will come before the next session of Parliament that's now a few weeks away," Khurshid said, explaining the reasons for Singh's absence at the summit.
"And of course, there were competing sentiments in the country about some outstanding issues with Sri Lanka, particularly on the rehabilitation and reconstruction that's imperative after the end of the war," Khurshid said in an apparent reference to the opposition to Singh's presence at CHOGM by political parties in Tamil Nadu.
"I think the totality of things that he took into account persuaded him not to come and that he would send a team instead, headed by the foreign minister of the country. So here I am," Khurshid, who is leading the Indian delegation at the Colombo summit, said.
Apart from Singh, Canadian Prime Minister Stephen Harper and his Mauritian counterpart Navin Chandra Ramgoolam have also chosen to keep away from the summit citing the "poor" human rights record of Sri Lanka.
Khurshid, talking about Sri Lanka and the phase it is going through, said "I think what happened in this country (Sri Lanka) for 27 years is something that nobody can discount....We have suffered as far as that tragedy."
"But we need to move on. I think that's the spirit in which everybody has to approach this, which is not to forget and to forgive everything, but to find the optimal level of truth and reconciliation," Khurshid said.
Image: Prime Minister Manmohan Singh