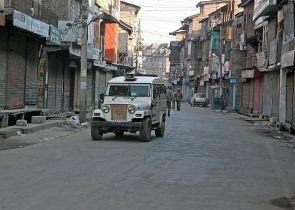 Curfew continued for the second day in Bihar's Nawada town on Tuesday after a violent clash between two communities that claimed two lives and left over half a dozen seriously injured, police said.
Nawada Superintendent of Police M S Dhillon said the situation is tense but under control with no report of fresh clash since Monday night.
He said the government has invoked the National Security Act for preventive detention and swift action against troublemakers.
Markets, shops, schools in Nawada town remained closed and streets wore a deserted look. Security forces were deployed in the area and patrolling was intensified.
Curfew was imposed in the town on Monday and police resorted to firing following a violent clash between two communities. Assembly of five people or more at a particular place and display of firearms have been banned, Dhillon said.
He said that 25 people had been detained in connection with the violence.
Communal tension erupted on Friday when an altercation took place between a group of kanwarias (Hindu pilgrims) and another community at a roadside eatery in Nawada.
District officials said clashes continued after the death of 20-year-old Kundan Kumar, who was injured along with three others in police firing on Saturday.
Kundan Kumar died at the Patna Medical College and Hospital on Sunday.
District authorities had imposed curfew in Nawada for a few hours on Saturday but later lifted it.
Dhillon said Assistant Sub-Inspector Kamal Narain Singh of Nawada town police station has been suspended on charges of dereliction of duty.
Chief Minister Nitish Kumar expressed concern over the situation in Nawada and directed officials to take stern action against anti-social elements. Kumar appealed to people and political parties to help the government ensure peace and harmony in Nawada.

"I will not allow any one to flare up communal tension in the state. The government will take all steps for the restoration of peace and harmony," he said.