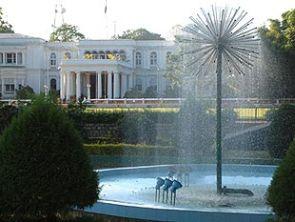 The Centre is planning a major reshuffle of state governors, say sources in the Prime Minister's Office and the Congress headquarters.
Congress spokesperson Janardhan Diwedi, and senior leaders Girija Vyas and Jagdambika Pal are likely to be appointed as governors, sources reveal.
Karnataka, where the Congress has recently returned to power, is likely to get a new governor, and most likely it will be Shekhar Dutt, who presently resides in the Chhattisgarh Raj Bhavan.
UP Governor B L Joshi will likely be replaced by his Karnataka counterpart Hansraj Bharadwaj.
Dutt, who failed to coordinate the anti-Naxal operations in Chhattisgarh, is now being decorated with big state like Karnataka. Insiders say that his brother-in-law Pulok Chatterjee, who is the principal secretary to Prime Minister Manmohan Singh, is protecting and promoting Dutt.
Dr Singh and Congress president Sonia Gandhi are under tremendous pressure from many governors to shift to bigger states, sources add.
In total eight governors have put in their requests for changes.
Image: The Karnataka Raj Bhavan may soon have Shekhar Dutt at the helm of affairs
Photograph courtesy: Karnataka Raj Bhavan's website