Army Chief Gen Dalbir Singh Suhag on Wednesday visited the Nagrota-based 16 Corps headquarters and was briefed about Tuesday's terror attack in which seven officers and jawans were killed, even as combing operation to flush out any remaining militant continued.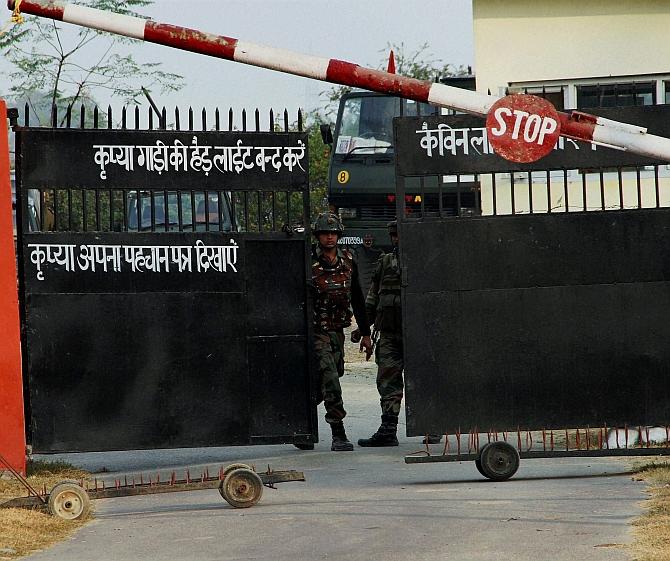 Three terrorists were killed by security forces personnel and combing operation to sanitise the area was nearing end.
Gen Suhag arrived in Nagrota in the afternoon and was briefed by the top commanders on the terror attack at an army artillery unit.
He was also briefed about the combing operations.
He reviewed the security aspect post terror attack and paid tributes to those killed in the strike.
"Combing operation resumed this morning at the camp. The area has to be cleared... Operation is on to see whether there is presence of any other militant in the area. We cannot take chances," a senior army officer said.
'Blinds' (unexploded shells) were destroyed at the site of the terror attack by a bomb disposal team during the combing operation.
Jammu was rocked by two terror attacks on Tuesday in which seven army personnel, including two Major-rank officers, were killed and eight other securitymen, including a BSF DIG, were injured, before six heavily-armed terrorists were eliminated in the separate fierce encounters.
In one incident, a group of heavily-armed terrorists in police uniform stormed an army unit in Nagrota, about three kms from the Corps headquarters on the outskirts of Jammu city.
Seven army personnel, including two officers, were killed in this attack before three terrorists were killed in an armed stand-off which also involved a hostage-like situation with 12 soldiers, two ladies and two children being held captive. All were rescued.
Three terrorists were gunned down by BSF in Ramgarh area of Samba near the International Border after an encounter that lasted several hours and was followed by intense cross-border firing by Pakistani troops. Four security personnel, including BSF DIG, were injured in this incident.
'We are still beating the drum about a surgical strike'
Hitting out at the Centre over the terror attack, the Shiv Sena dubbed it as a 'complete intelligence failure' and urged Prime Minister led government to launch a strict action against the hostile neighbour.
"It doesn't seem to be stopping. We need to take very strong action against Pakistan. I think one surgical strike was not enough. And the more astonishing and surprising facts are that the Army base camps are being targeted now. So, where is the intelligence, where is our information system? It is a complete failure that there used to be attacks on civilians, in the villages but now the army base camps and such place are being targeted," Shiv Sena leader Manisha Kayande told ANI.
"After Pathankot this is the third attack, so it's a complete intelligence failure and the government has to take stringent action against it," she added.
Echoing similar sentiment, another Shiv Sena leader Sanjay Raut called on the government to up the ante against Pakistan and stop gloating over the one lone surgical strike.
"Ever since the Uri attack happened, Pakistan has turned the heat and unleashed a string of attacks on us, while we are still beating the drum about one, lone surgical strike. Yes, we did carry out a surgical strike but clearly that has not silenced Pakistan. One mere surgical strike does not amount to teaching Pakistan a lesson," Raut told ANI.
Meanwhile, the Congress Party alleged that the BJP-led government, which believes in publicity and is least bothered about national security, must take responsibility for the Nagrota attack and Samba infiltration bid.
Leader of Opposition in Lok Sabha, Mallikarjun Kharge, appealed to the government to remain alert and give a befitting reply to Pakistan for the continuous attacks from the other side of the border.
"The government is more indulged in publicity and paying less attention to the nation's security. That's why such incidents are taking place. If they would have been alert and given free-hand to our jawans, such incidents would not have taken place. The government should take the entire responsibility," Kharge told ANI.
IMAGE: Security personnel on the vigil following the terrorist attack on Nagrota Army camp, near Jammu on Wednesday. Photograph: PTI Photo