Two Army officers and five soldiers lost their lives in a major terrorist attack on Tuesday at an army base near Jammu in the town of Nagrota, just 20 kilometres from the border with Pakistan.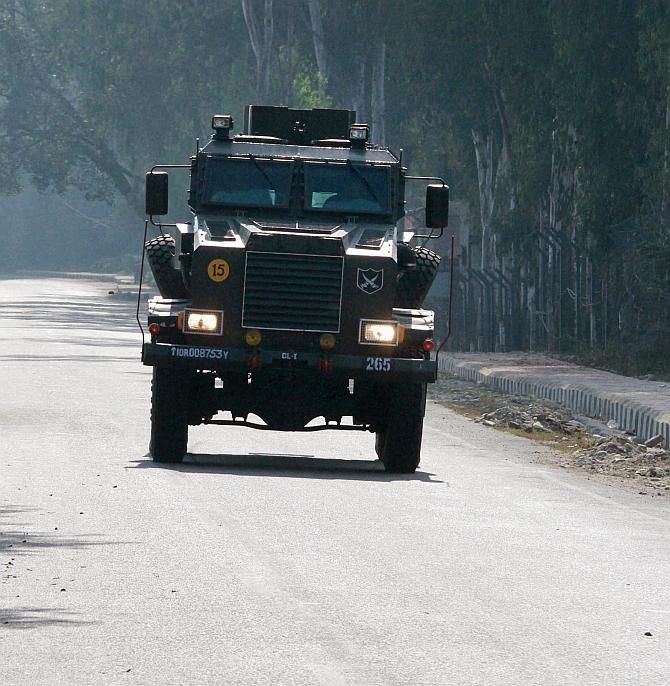 A senior Army officer said that heavily-armed terrorists in police uniform stormed the 166 artillery unit before daybreak with guns and grenades and forced their way in.
An army spokesperson said the terrorists forced their entry into the Officers Mess complex by throwing grenades and firing at sentries. In the initial counter action, one officer and three soldiers were martyred.
The terrorists then entered two buildings housing officers and their families, leading to a "hostage-like situation".
"The situation was very quickly contained and thereafter, in a deliberate operation all were successfully rescued, which included 12 soldiers, two ladies and two children," the statement said.
Prime Minister Narendra Modi was briefed by Defence Minister Manohar Parrikar on the deadly attack.
Earlier, army chief General Dalbir Singh Suhag briefed Parrikar about the attack.
The ministry is also likely to seek a formal report from the army about the assault which came just two months after the deadly Uri terror strike.
Sources said the prime minister was briefed in Tuesday morning and again after the operation was over.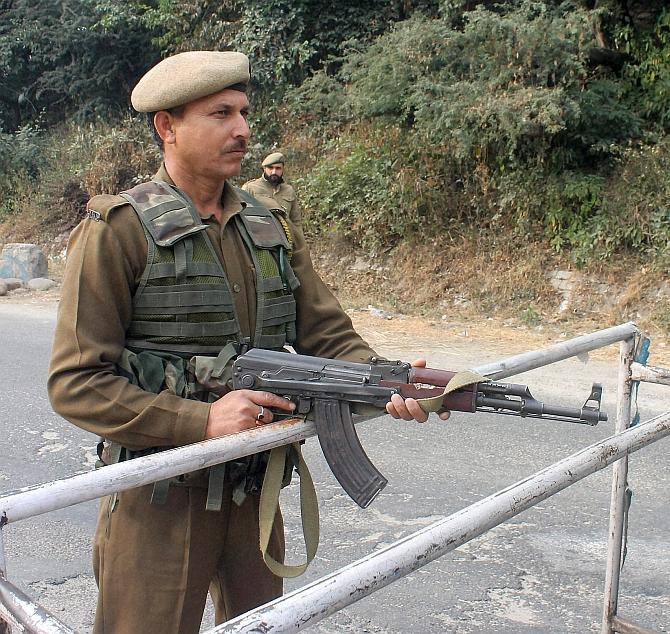 However, in this rescue attempt one more officer and two soldiers perished.
The bodies of the three terrorists have been recovered and operations are in progress to sanitise the complete area.
One of the deceased officers has been identified as Major Kunal Gossain of 166 Medium Regiment Artillery.
The brazen attack was the second such incident in as many months since the siege of another army base at Uri left 19 Indian soldiers dead, that had spiked tensions between India and Pakistan.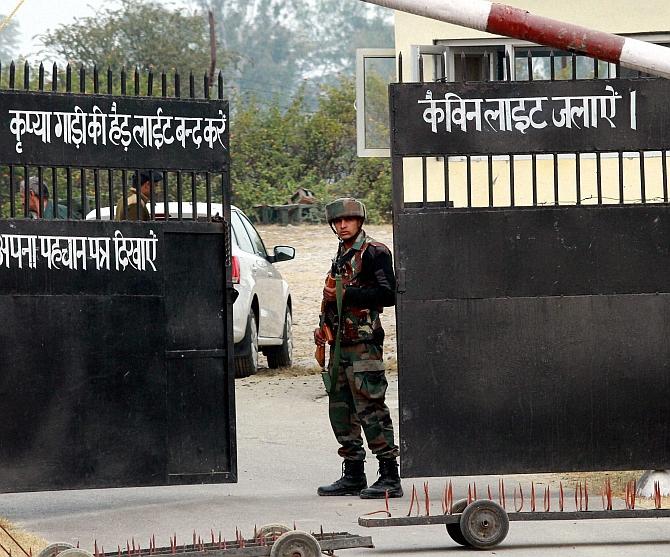 BSF guns down three terrorists in Samba
In another gunfight, 70km from Nagrota, three terrorists were gunned down by the Border Security Force in Ramgarh area of Samba near the International Border after an encounter that lasted several hours and was followed by intense cross-border firing by Pakistani troops. Four security personnel, including a BSF DIG, were injured in this incident.
A senior BSF officer said a group of terrorists entered into the this side along the International Border in Ramgarh sector of Samba district and the movement was picked up by BSF troops.
A firefight broke out after BSF troops challenged them, he said, adding that in the initial phase of encounter a jawan suffered minor injuries.
BSF troops put them under strict cordon near a water point in dense bushes in Chamliyal and in the fierce encounter, three terrorists were killed, he said.
In the ensuing events, BSF's Jammu DIG B S Kasana, Inspector Sarabjit Singh of India Reserve Battalion and constable Vaibhav of BSF sustained injuries, the BSF said in a statement.
All the injured were immediately evacuated to military hospital and were reported to be stable, the statement said.
Eighteen magazines, 25 live grenades, three IED waist belts, five chain IEDs (used to blow up railway tracks) and a wireless set were recovered from the slain terrorists.
"Had BSF not successfully contained and eliminated the terrorists, they could have caused massive damage in the mainland. It was only because of BSF's multi-tier security cover that this calamity was averted effectively," BSF spokesman said.
The area is being sanitised.
The latest incidents came on a day Pakistan saw a change of guard in its powerful military with General Qamar Javed Bajwa taking over as the army chief from General Raheel Sharif.
In his farewell address, the outgoing military chief warned India not to mistake his country's "restraint" over recent tensions in disputed Kashmir for weakness.
Photographs: PTI Photo