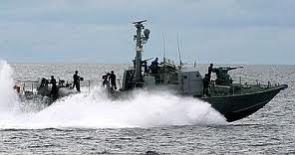 The Coast Guard coordinated the rescue of crew members of a container which sank some 840 nautical miles from Mumbai.
The Coast Guard Maritime Rescue Coordination Centre diverted three merchant vessels to help the crew, comprising 12 Russians and 14 Filipinos, of 'Mol Comfort', a container ship which sank after its hull broke into two.
The crew had abandoned the vessel in life rafts and were rescued from choppy waters by a ship, 'Yantian Express', which was diverted by the Coast Guard.
The crew has been sent to Colombo, a statement by the Coast Guard said.