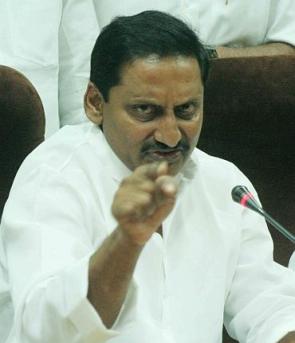 With the number of Members of Legislative Assembly from the Seema-Andhra region exceeding those from Telangana, it is very likely that the central resolution favouring Telangana will be struck down when it is presented in the Andhra Pradesh Legislative Assembly.
Chief Minister Kiran Kumar Reddy -- who has openly opposed the bifurcation of the state -- and his supporters are waiting for the resolution to reach the legislative assembly so that they can create a ruckus before striking it down.
The Union Cabinet is likely to meet on September 19 and issue a note proposing the formation of Telangana. The note would be placed before Parliament for debate and needs to be passed in both Houses.
Senior Congress leader and Union minister A K Antony has also been briefing senior leaders in New Delhi about the latest developments in Telangana.
There has been a major question mark and sizable doubt over the role of the assembly in the formation of a new state.
There are 175 Members of Legislative Assembly from Seema-Andhra in the state assembly, who are seeking a unified state, and 119 MLAs from Telangana,
However, neither a law nor a precedent states that the approval of the state assembly is mandatory before its actual bifurcation.
While the President has to, by law, seek the assembly's opinion on the division of a state before Parliament passes the law, neither the Lok Sabha nor the Rajya Sabha really has to consider the assembly's response.
The Congress was, understandably, not too enthusiastic about sending the Telangana resolution to the state assembly. Party leaders are well aware that their very own CM and his followers will grab this opportunity to voice their opposition to the breaking up of the state.
The Constitution of India clearly states that the President can go ahead with the formation of the state, once the bill is passed by both houses of Parliament, even if reservations are expressed by the concerned state assembly.
The Centre may have to set up a commission to sort out issues of capital sharing, boundaries and water distribution, among others.
Under Article 3 of the Constitution, the President first refers the matter to the state assembly, after which it needs to be ratified by Parliament. The President will also have to look into the recommendations of the commission to ensure a smooth transition towards the creation of a new state.
Image: Andhra Chief Minister Kiran Kumar Reddy