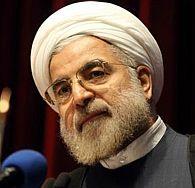 Moderate Iranian cleric Hassan Rowhani was declared the new Iranian President today, with a decisive victory over over his conservative rivals in the election, after 18.6 million Iranians voted in his favour.
Rowhanii's nearest rival was conservative Tehran Mayor Mohammad Baqer Qalibaf, who won only 6.07 votes.
According to news agency Reuters, Rowhani has indicated he would pursue a less confrontational foreign policy than current President Mahmoud Ahmadinejad and enact a "civil rights charter" at home.
Rowhani is a former top nuclear negotiator who has vowed to mend Iran's ties with the international community.
More than 50.5 million Iranians were eligible to vote to find a successor to Ahmadinejad, who, after serving two consecutive terms, was constitutionally barred from standing for office again.
Voters reportedly turned out in massive numbers for Friday's election, with Rowhani benefitting from the withdrawal of the only moderate candidate Mohammad Reza Aref.
Aref, a former first vice-president, pulled out of the race on Tuesday at the urging of former reformist president Mohammad Khatami, who then threw his weight behind the 64-year-old moderate cleric.
At campaign rallies, Rowhani had pledged to seek constructive interaction with the world that includes efforts to ease Western concerns about Iran's programme and lift punishing international sanctions that have pummeled the economy.
"We won't let the past eight years be continued," Rowhani told a cheering crowd last week in a clear reference to Ahmadinejad's back-to-back terms.
"They brought sanctions for the country. Yet, they are proud of it. I'll pursue a policy of reconciliation and peace. We will also reconcile with the world," he said.