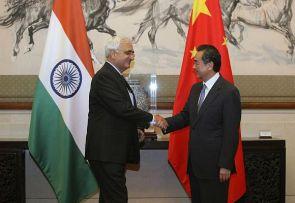 Chinese Foreign Minister Wang Yi will attend a two-day trilateral meeting of the foreign ministers of Russia, India and China in New Delhi from November 10 to discuss regional and international issues.
He will also take part in the Asia-Europe meeting being held in New Delhi around the same time, the Chinese foreign ministry announced on Thursday.
Wang will take part in the 12th meeting of Russia, India, China Foreign Ministers meeting along with External Affairs Minister Salman Khurshid and his Russian counterpart Sergei Lavrov to discuss international, regional and issues of mutual interest, Chinese Foreign Ministry spokesman Hong Lei said.
RIC which was formed over a decade ago is being overshadowed by the Brazil-Russia-India-China, South Africa (BRICS) which has emerged as an influential international grouping as it consists of some of the fast-developing economies of the world.
Besides the strategic areas, RIC is focussed on issues relating to disaster relief, agriculture, public health, deepening communication among academic, industrial and business circles as well as to promote multilateral cooperation and democratic international relations.
Asked how China sees RIC which is overtaken by BRICS, Hong said since it was established over 10 years ago "his mechanism has become an important platform for the three countries to coordinate their positions and seek consensus and cooperation."
"China pays high attention to the upcoming meeting", he said.
The three countries are emerging markets and share common views on lot of international and regional issues, Hong said.
To maintain a regular dialogue will be of great significance to the three countries to build mutual trust and form consensus, he said.
Hong stressed that China believed that this meeting will yield positive outcomes and make contributions to maintain regional peace and stability.
Image: China's Foreign Minister Wang Yi shakes hands with his Indian counterpart Salman Khurshid.
Photographs: Reuters