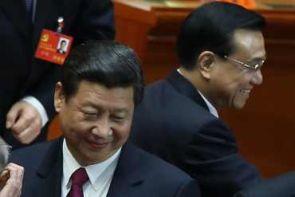 China on Monday said Indian Prime Minister Manmohan Singh's three-day visit from Tuesday is of great importance for deepening strategic partnership amid expectations that the two sides would sign some key pacts, including one to prevent incursions along the LAC.
"We attach great importance to the visit and are looking forward to it," China's Foreign Ministry spokesperson Hua Chunying told a media briefing in Beijing.
"It is of great importance to deepen China-India strategic partnership as the visit follows the visit of Chinese Premier Li Keqiang to India in May."
In a rare honour, Singh, who is arriving Tuesday night after a visit to Russia, will be hosted by both Premier Li and President Xi Jinping on the same day.
Among the pacts expected to be signed during the visit is the Border Defence Cooperation Agreement, the draft of which was cleared by the Indian cabinet.
It is perceived as a major confidence-building measure by both countries, which had to grapple this year with a series of Chinese incursions along the Line of Actual Control that triggered serious tensions.
A much awaited agreement on liberalising the visa regime was reportedly dropped as India's cabinet did not clear it because of reservations over Chinese visa procedures, like issuing stapled visas for residents of Arunachal Pradesh that led to two Indian archers missing a competition in Beijing.
An agreement on establishing Chinese industrial parks in India, expected to bring in investment from China, too is unlikely to be signed as a Chinese team is still scouting sites in India.
Agreements on promoting culture and people-to-people contacts are expected to be signed.
Besides welcoming Singh at the Great Hall of the People overlooking the historic Tiananmen Square, Li will hold talks with him on a host of issues.
Later, they will jointly address business leaders attending the second India-China CEO Forum being held on the sidelines of Singh's visit.
Ten top Indian industrialists, headed by Reliance Anil Dhirubai Ambani Group chief Anil Ambani, and prominent Chinese industrialists will be part of the business meet.
The Forum's first meeting, aimed at framing a policy framework for bilateral trade and investment, was held during Li's visit to New Delhi in May.
A banquet hosted in honour of Singh will be attended by Xi. Both leaders met for the first time on the sidelines of the BRICS summit in South Africa.
While Li is seen as the point man for India-China ties in the new leadership which took power this year, New Delhi is keen to interact with Xi, who has emerged as the most powerful leader in China as the President, head of the Communist Party of China, and chief of the military.
Discussions between the two sides are expected to focus on India's concerns over China's plans to build a series of dams and existing structures, especially on the Brahmaputra in Tibet.
India fears the dams will drastically cut water flows downstream. China argues they are run of the river projects that will not hold water.
An important event in Singh's itinerary is his address on October 24 to future leaders of China at CPC's CentralSchool, which produced almost all top leaders in recent years, including Xi and Li.
The school provides ideological and policy orientation to party leaders and very few world leaders have addressed it in recent years.
Foreign Ministry spokesperson Hua further said China and India are the world's two largest countries and important emerging markets. The bilateral relationship has assumed strategic significance and global implication.
"We hope to strengthen political mutual trust, promote practical cooperation, deepen cultural and people-to-people exchanges between the two countries and enhance cooperation and coordination between the two countries on international and regional issues," she said.
The people of both countries represent a third of the world's population and therefore "sound and steady development of our relationship not only serves our bilateral relationship but is also great significance to world peace," she said.
Image: Xi Jinping and Li Keqiang attend 18th Communist Party Congress in Beijing
Photograph: Feng Li/Getty Images