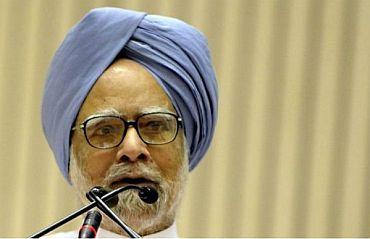 In a rare honour, Prime Minister Manmohan Singh would visit and address China's ruling Communist Party's Central School during his visit in Beijing next week besides holding in-depth talks with Chinese leaders.
Besides holding talks with Chinese President Xi Jinping and Premier Li Keqiang, Singh would address the Communist Party of China Central School, Chinese Foreign Ministry spokesperson Hua Chunying told PTI in Beijing.
The school is China's most prominent ideological institution, which produced almost all top Chinese leaders over the years. It is rare invitation for heads of foreign governments to address the school.
"Everybody is looking forward to hear his speech at the Central Party School an honour bestowed on important leaders," Hua said.
The CPC, which has been ruling the country for the 64 years, has several schools for ideological orientation. Its main campus is located in Beijing.
Till last year, the school was headed by Xi himself. The schools plays an important role in shaping CPC's ideology.
Singh would address the school on October 24. He will hold talks with Xi and Li on October 23 during which the two sides were expected to sign key agreements like Border Defence Cooperation Agreement.
The BDCA is expected to broadly address India's concerns over the recent incursions by the Chinese troops in different points and lay elaborate structure to deal with various issues arising out of patrolling along the Line of Actual Control.
On signing of the BDCA, Hua said, "I know the two sides are in close communication". She was referring to the talks held by both sides in September here.
The two sides are working to improve the border mechanism, its efficiency and capacity, she said.