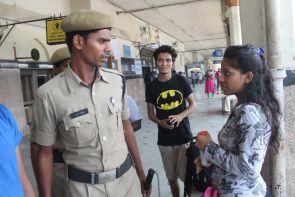 Officials of the Tamil Nadu special police who are conducting a joint probe with their counterparts in Karnataka have concluded that the two bombs that went off on the Bangalore-Guwahati train were not planted in Bangalore.
After examining two hours of CCTV footage at the Bangalore railway station, the police have found nothing suspicious. There is nothing to indicate that the bomb was planted at the Bangalore railway station.
Officials told Rediff.com that the suspect may have boarded the train at the Chennai railway station to plant the bomb. He must have fled immediately after planting it.
The police admitted that security arrangements at both the Chennai and Bangalore railway stations were pathetic. The CCTV footage shows passengers walking in without being checked. At some platforms the metal detectors were nonfunctional, the sources also said.
"We do not want to be speculative as there could be multiple angles behind this blast. It could well be a diversionary tactic," police sources said.
Image: Hyderabad Railway Police question a passenger at Nampally railway station
Photograph: SnapsIndia