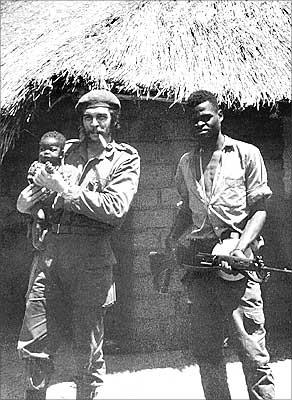 1965 was a very eventful year in Algeria. Jammu and Kashmir leader Sheikh Abdullah, who had been released from prison in India, under the pretext of seeing Algerian Revolutionary leader and President Ben Bella turned up in Algiers and met with Chinese Prime Minister Chou en Lai, also visiting Algeria. Soon after, President Ben Bella himself, residing at the Peoples Palace, just across my flat on Rue Franklin Roosevelt, was overthrown in a peaceful coup d'etat by Houari Boumeddienne, the military chief of the Algerian Liberation Army. Twice, preparatory meetings for the Second Afro Asian Summit failed to agree on an agenda or the date or even the venue.
But it is the 80th anniversary of Che Guevara's birth on June 14 and the upcoming 50th anniversary of the Cuban Revolution which Che helped plan and execute with Fidel Castro, which brought back memories of the visit to Algeria of that legendry revolutionary icon of 1960s and beyond.
Having won its independence from France three years earlier after a bloody eight-year long guerilla war, in which a million Algerians out of eleven million population were sacrificed, Algeria was then at the forefront of struggle against colonialism and imperialism. Its capital Algiers was a thriving hub for freedom movements and revolutionary groups from all over Africa, Asia and elsewhere. Every week there were seminars, meetings and summits for Arab, Afro-Asian and Third World solidarity and struggle. It was for one such seminar in February 1965 that Che Guevara himself, then minister of industry in the Cuban government turned up He was indisputably the dazzling star of the show. After the meeting people queued up to shake his hand and so did I, then posted as a young diplomat at Algiers. I said hello and perhaps added how are you. It was like getting an autograph of a celebrity.
With only a few years into the diplomatic service after an engineering degree from Baneras I was still reading up on history and international relations and was not fully cognisant of the Che Guevara phenomenon and his revolutionary past. But the man had a charismatic presence in green olive fatigues and black beret at a rakish angle. The very best of the Hollywood and Bollywood stars all rolled into one. Later when I recounted my meeting and shaking hands with Che, many students, leftists and ladies would shake my hand to partake some of that revolutionary barkat which might still be lingering in my fingers.
Later I learnt more about Che (so nicknamed because of his constant use of Che - dear), his full name being Ernesto Guevara de la Serna. Born in 1928 in a well-educated middle-class Argentine family, he was the eldest of five siblings. He played excellent chess as a child and was an aggressive rugby player. During adolescence and later he remained passionate about poetry, especially that of Neruda, Keats, Machado, Lorea, Mistral, Vallejo and Whitman. He could also recite Kipling and Hernandez from memory. A home library of more than 3,000 books, allowed him to be an enthusiastic and eclectic reader of philosophers and poets, even writings of Jawaharlal Nehru (with whom Che had lunch during the visit to New Delhi), apart from Marxist and existentialist writers.
He had a brilliant medical academic career and was an exceptional athlete in spite of asthma. But his motorcycle trips across Latin America, where he encountered American imperialism first hand changed his vision of the world. A bloody revolution was necessary to throw out capitalism and imperialism.
"After graduation, due to special circumstances and perhaps also to my character, I began to travel throughout America, and I became acquainted with all of it. Except for Haiti and Santo Domingo, I have visited, to some extent, all the other Latin American countries. Because of the circumstances in which I travelled, first as a student and later as a doctor, I came into close contact with poverty, hunger and disease; with the inability to treat a child because of lack of money; with the stupefaction provoked by the continual hunger and punishment, to the point that a father can accept the loss of a son as an unimportant accident, as occurs often in the downtrodden classes of our American homeland. And I began to realise at that time that there were things that were almost as important to me as becoming famous for making a significant contribution to medical science: I wanted to help those people." --- Che Guevara in 1960.
After finishing his medical studies, he reached Guatemala in December 1953, where President Jacob Arbenz Guzman heading a democratically elected government, through land reforms and other measures, was attempting to improve the condition of the peasants. Che wanted to settle down in Guatemala, but for the overthrow of the Arbenz government by Washington which confirmed Guevara's view that the USA was an imperialist power that would oppose and attempt to destroy any regime that sought to redress the socio-economic inequality endemic to Latin America and other developing countries.
This strengthened his conviction that Marxism achieved through armed struggle and defended by an armed populace was the only way to rectify such a condition.
Che then shifted to Mexico city in September 1954, and renewed his friendship with the Cuban exiles he had known in Guatemala. In June 1955, he met with Raul Castro and later his older brother, Fidel Castro, who was planning to overthrow the dictatorship of US backed Fulgencio Batista in what became hallowed as the Cuban Revolution. Guevara recognised at once that Castro was the cause for which he had been searching for. He joined Castro and was promoted as commander in Castro's 26 July Movement, playing a pivotal role in the successful guerrilla campaign to overthrow Batista. After Castro's army rolled victoriously into Havana the revolutionary government in February, 1969 proclaimed Guevara "a Cuban citizen by birth" in recognition of his role in the triumph.
After the revolution Che served in many prominent governmental positions, including as president of the national bank, minister of industry, and "supreme prosecutor" over the revolutionary tribunals and executions of suspected war criminals from the previous regime. He also went traversing around the globe to meet with an array of world leaders to explain and promote the Cuban socialism. Che was a prolific writer and diarist. One of his most prominent published works includes a manual on the theory and practice of guerilla warfare.
Time magazine, which described Che Guevara as one of the hundred most influential persons of the 20th century, wrote that: "Che convinced Castro with competence, diplomacy and patience. When grenades were needed, Che set up a factory to make them. When bread was wanted, Che set up ovens to bake it. When new recruits needed to learn tactics and discipline, Che taught them. When a school was needed to teach peasants to read and write, Che organised it."
The Cuban revolution, still survives in spite of American endevours to undermine it and many attempts to assassinate Fidel Castro himself. Cuba remains a beacon and has inspired revolutionaries and leftist regimes around the world specially in Latin America.
Che had come to Algeria after visiting many important Afro-Asian nations like China, India, Yugoslavia and Egypt. This visit turned out to be his last public appearance on the international stage. In a speech at the economic seminar on the importance of Afro-Asian solidarity, he specified the moral duty of the socialist countries and accused them of tacit complicity with the exploiting Western countries. He proceeded to outline a number of measures which he said the Communist-bloc countries must implement in order to accomplish the defeat of imperialism.
Che appeared closer to Mao's Chinese ideology. It was an implicit criticism of the Soviet Union, Cuba's main support and bulwark against implacable US hostility, which continues to this day. Ideological differences with Castro on USSR 's policies brought some coolness in relations between Castro and Guevara. After Algiers, Che did return to Cuba but left soon after and dropped out of public life and then vanished altogether.
There were many media reports of his appearance with USA's CIA very much on his trail and keenly interested in his activities. It appears that he first helped Patrice Lumumba's cause in Congo, but did not achieve much success. In late 1966 he went over to Bolivia to set up guerrilla training groups to help dissidents to the regime. The US was keeping a watch on his movements but Che was unaware that Washington had sent CIA and other operatives, including one Felix Rodriguez into Bolivia to aid the government forces which had been trained, advised, and supplied by US Army Special Forces trained in jungle warfare.
In October, 1967, Che's group was attacked by the Bolivian army. Guevara, who was wounded in the attack, was captured, but he died defiantly. A panicky Bolivian regime, afraid of reaction around the world if he were tried and US demands, got him executed. Moments before his execution Che was asked if he was thinking of his own immortality. "No," he replied, "I'm thinking about the immortality of the revolution." A jittery and shaking Bolivian soldier chosen to kill him, had trouble pulling the trigger. Che asked him to steady himself and take a clean aim. He was only 40 years old. Few revolutionaries like Mao and Fidel live to grow old. And Mao's China is far from a revolutionary state now.
In July, 1997, Che Guevara's remains though not exhumed were definitely identified by two experts who were "100 percent sure", were discovered in Vallegrande in Bolivia. A July 19 ceremony in Havana, attended by Fidel Castro and other Cuban officials, marked the return of Che's remains to Cuba and in an October 17, 1997 ceremony attended by Castro and thousands of Cubans, Che Guevara's were reburied in Santa Clara, Cuba.
Che's unflinching will, self sacrifice and idealism have given him a saint like halo and reverence among his followers around the world. His theories and treatises on guerilla warfare still remain a beacon for the young and the revolutionary as they were for the 1968 students uprising in Paris and elsewhere, for example, among the leftist Marxist students of Turkey in early 1970s, who also studied the Naxabari movement and lapped up theories of Charu Majumdar and Kanu Sanyal from Bengal.
Che's memories now live on in photos, music, theatre pieces, movies, poems, novels, sculptures and scholarly texts. To coincide with his 80th birthday celebrations, a collection of vintage Che Guevara prints are on display in Austria, including the iconic 1960 Alberto Korda portrait of him in a beret. Exhibitions of his photographs including of his visit to India in 1960s is being held in New Delhi. A new statue has been unveiled in his native Argentina. The larger-than-life "Monument to Che" statue weighs three tons and towers 13 feet high, topped off with the revolutionary's famed starred beret. Guevara had left the city in 1953 as a young doctor embarking on a trip throughout Latin America, a journey depicted in the 2004 movie Motorcycle Diaries.
But the universal consumer society today exploits even Che's fame and name to sell designer clothes, beer, films and books.
K Gajendra Singh has been Indian ambassador to Turkey, Azerbaijan, Jordan, Romania and Senegal. He is currently chairman of the Foundation for Indo-Turkic Studies.
Image: This 1965 photo shows Che Guevara (left) with a Congo soldier involved in the guerilla movement Guevara led in that country.