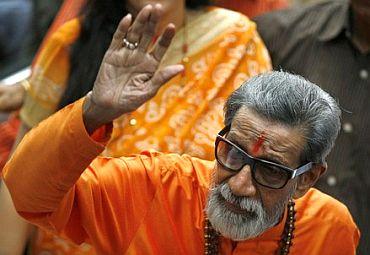 Shiv Sena chief Bal Thackeray on Friday defended Bharatiya Janata Party president Nitin Gadkari, who has been accused of receiving illegal favours in land allotment from Maharashtra's Congress-NJationalist Congress Party government.
"The allegations against Gadkari are as barren as the land he took (on lease from Government)," Thackeray said, in an editorial in party mouthpiece 'Saamana'. Two days ago, activist-politician Arvind Kejriwal and his associate Anjali Damania had accused Gadkari of receiving personal favours by getting around 100 acres of agriculture land in Vidarbha after the state government allegedly bent the rules.
"If Kejriwal and Anjali Damania continue to make such baseless allegations, they will go the Anna Hazare way," Thackeray said, without elaborating.
 "There is no reason for Kejriwal and Anjali Damania to get upset if Gadkari got land and implemented a project there. He did not steal or rob," Thackeray said.
The corruption charges against Gadkari, whose party is in alliance with the Shiv Sena for the past over two decades, were the result of a conspiracy hatched by Kejriwal and Damania, the Sena chief alleged.
He also attacked the NCP, blaming its leader Ajit Pawar for the multi-crore irrigation scam which he said took place during his tenure as water resources minister.
Kejriwal has alleged that the BJP chief got favours in return for 'maintaining silence' on various scams in the state, being ruled by Congress-NCP alliance since 1999.
Gadkari has rejected the charges levelled against him and maintained that the land in question was a 'wasteland' given on lease to a charitable trust and was not owned by him as alleged.