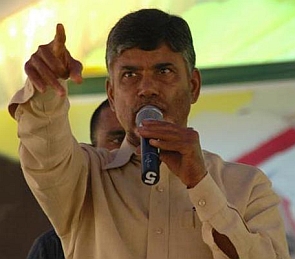 The ruling Congress in Andhra Pradesh on Monday suffered a major blow in the urban civic body polls in the Seemandhra region, where opposition Telugu Desam Party put up a stellar performance, but stole the show in Telangana for whose statehood the party claims credit.
The Congress, which has ruled Andhra Pradesh for 41 of its 57 years of existence, faced a near wash-out in Seemandhra, which comprises the coastal Andhra and Rayalaseema regions, largely because it was seen as the villain of the piece for its role in the impending creation of Telangana, which will next month become a separate state.
The former chief minister Chandrababu Naidu-led TDP hasbagged over 60 municipalities out of more than 90 of them in the Seemandhra region. YSR Congress of YS Jaganmohan Reddy, who is staunchly opposed to the bifurcation of Andhra Pradesh, was placed second with 17 municipalities so far in its kitty.
In Seemandhra, the TDP bagged five corporations, including Vijayawada, while YSR Congress clinched two among which was Kadapa, the native district of Jaganmohan.
The Congress, which was almost decimated in the coastal Andhra and Rayalaseema regions, has so far won more than 20 municipalities out of a total 53 in Telangana, which would come into being as a new state on June 2. The Congress has pushed Telangana Rashtra Samithi of K Chandrasekhar Rao to the second position.
The TRS, which was in the forefront of the agitation for a separate Telangana state, has so far bagged eight municipalities.
The TDP, which was once a major force in the Telangana region, has been relegated to the margins after winning just three municipalities so far. BJP bagged two municipalities.
Several urban bodies in both the regions threw up hung verdicts.
The polls to 145 nagar panchayats and municipalities and 10 corporations were conducted on March 30 against the backdrop of the passage of the contentious Telangana Bill in Parliament.

Image: TDP leader Chandrababu Naidu