The situation today is far more conducive for a third front than it was in 1996, says TDP leader Chandrababu Naidu. Mohammed Siddique reports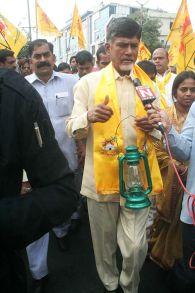 Telugu Desam Party President and former Andhra Pradesh Chief Minister N Chandrababu Naidu is once again keen to play the role of a king maker in national politics. He seems confident that the 2014 polls will be a repeat of 1996 when a non-Congress, non-BJP third alternative United Front had formed the government.
Talking to national media representatives in Hyderabad on Sunday, the eve of the party's annual conference Mahanadu, Naidu said that a hung Parliament will emerge from the next elections and a third front comprising of regional and smaller parties will come to power.
"The process has begun and I am talking to leaders of different parties. But I cannot give any name now," said Naidu. Replying to a question he said that this time the third front will be much more cohesive and strong as everybody has learnt a lesson from the past.
"Many things have changed since 1996. We had NDA coalition and then UPA coalition government. The people have also come to accept the coalition governments in the country," he said.
When asked whether like the Congress and BJP led coalitions, the third front will also project somebody as a prime ministerial candidate, Naidu said that in the present circumstances it will be a difficult task. "But we will work to have a pre polls or a post poll alliance. Who will lead it will depend on the situation at the time. But we have several leaders including many stalwarts who were chief ministers for 10 to 15 years," he said.
On another question whether he will also throw his hat in the ring, Naidu firmly ruled it out. "No, I am not an aspirant. I can work for a consensus only if I am not an aspirant. Of the four non Congress governments, three were dependent on Telugu Desam in the past," he recalled.
Giving the reasons for his confidence about the third front forming the next government, the 63-year-old leader said that Congress was diminishing and the BJP was not picking up. "The situation today is far more conducive for a third front than it was in 1996," he said.
He was also gung ho on the possibility of the TDP coming to power in the state. "Even in 2009 the TDP lost technically by 1% vote as Praja Rajjyam Party ate into the anti-incumbency vote. This time there is no incumbency. Congress has lost its vote bank and there is no difference between Congress and YSR Congress. Both of them were responsible for corruption and scams, and people have seen through their games," he said.
Naidu denied any power struggle in the NTR family as was indicated by the tussle between filmstars Balakrishna and Junior NTR. When asked about junior NTR aspiring to be the leader of TDP, Naidu shot back, "How can he when I am there as the party president."
Naidu said that he will carry all the members of NTR family along. "Anybody is welcome in the party to serve. But what role they will play will be decided by the party cadre," he said.
On his son Lokesh's role, he said, "He was interested in good governance and was willing to work as a volunteer in the party. About his future, the party will decide," he said.