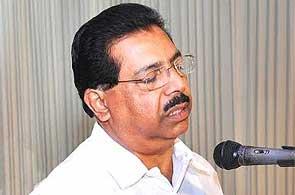 Against the backdrop of the opposition's demand for his removal, Joint Parliamentary Committee Chairman P C Chacko on Friday met Lok Sabha Speaker Meira Kumar to explain his position on the issues concerning the controversial draft report on 2G scam.
There were indications that the meeting of the JPC, which was cancelled on Thursday because of the death of a Lok Sabha member, could take place on May 2 or May 3 to adopt the report. The committee is expected to table its report in Parliament by May 10, when its term comes to an end.
Chacko said he went to meet the Speaker to explain his position but did not give any details.
Prior to his meeting with Kumar, Chacko said that since some members have approached the Speaker, "I thought it would be better that I consult her before deciding on the date (of the next meeting)."
His meeting with the Speaker took place a day after 15 opposition members of the 30-member JPC demanded that he should be removed as they had "no confidence" in him on grounds of his "highly partisan, unfair and prejudicial" conduct, besides alleged leakage of the draft report.
The opposition members made the demand when they met the Speaker.
Chacko had on Thursday rubbished the opposition demand, saying the "draft report may not be convenient for them, that is why they are demanding my removal after two years."
He said he would remain the JPC chairman till the Speaker indicates otherwise.
To counter the opposition's move, Congress members of the JPC have also made a representation to the Speaker, seeking the removal of Bharatiya Janata Party members in JPC Yashwant Sinha, Jaswant Singh and Ravi Shankar Prasad, citing conflict of interest.
"The two matters are before the Speaker, therefore, it would not be appropriate for me to comment on it," Chacko said.
Under the rules, the chairman of the JPC is appointed by the Speaker, so it is her discretion to remove him.
On Thursday, Kumar said she was examining the matter.