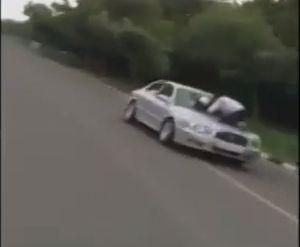 A traffic constable who had signalled a car driver to stop for some violation was allegedly dragged on the vehicle's bonnet for about 1 km in the city's high security area, before a PCR jeep which was chasing the accused came to the cop's rescue.
The driver of the vehicle was arrested on August 10, soon after the incident, and was booked under several sections of IPC, including Section 307(attempt to murder), said Chandigarh DSP Asish Kapur.
The constable, Davinder Singh, was hit by the car at the Matka Chowk roundabout after he signalled the driver to stop as he was allegedly speaking on the mobile while driving.
However, Aftab Singh, a Mohali resident, instead of stopping the car tried to flee and hit the constable.
After being hit by the car, Singh barely managed to hang on to the vehicle's bonnet by tightly clutching his one hand with the car's wiper blades while trying to hit the windscreen with the helmet in the other hand.
The policeman was dragged on the bonnet of the car for around 1 km, police said. The Police Control Room van chased the accused, filmed the action of the accused and managed to arrest him.
Singh was rushed to Government Multi-Speciality hospital in Sector 16 with some injuries. The incident occurred at a place which is a high-security area in Chandigarh.
Residents of Sector 10, an upscale area near the Matka Chowk roundabout, have on numerous occasions pointed out that youth create nuisance and drive their vehicles at a high speed.
It is also a daily routine near the Government Art College in Sector 10 where youths can be seen violating traffic rules, many residents complain.
Meanwhile, according to Chandigarh's Inspector General of Police R P Upadhyay, the accused driver has been booked under various sections including for rash and negligent driving, attempt to murder, causing hurt by act endangering life or personal safety of others, voluntarily causing hurt to deter public servant from his duty, assault or criminal force to deter public servant from discharge of his duty and intimidation.
Image: Video grab of the incident