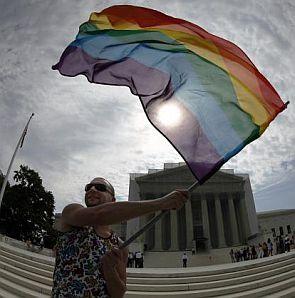 Various South Asian lesbian, gay, bisexual, and transgender organizations in California welcomed the United States Supreme Court's ruling striking down the controversial federal law that discriminated against gay couples in the US.
Monica D of Trikone, a non-profit organization for LGBT community in San Francisco Bay Area, told rediff.com: "Now I can get married in coming August."

She said it is a historic decision and will benefit the community. Trends have been shifting and attitudes have changed toward support for same-sex marriages.
Couples who are married in states that recognize same sex marriages as legal will be able to avail themselves to equal rights and benefits, including the same federal tax, survivor, estate, retirement, and health-care benefits that straight couples already benefit from.
The Supreme Court also narrowly ruled on the Proposition 8 case, deciding that the opponents of same-sex marriage who were defending the case have no legal standing to bring the case before either the Ninth Circuit Court of Appeals or the Supreme Court.

Essentially, same-sex marriage will resume in California.
"Trikone is excited. We recognize that marriage equality is only a small piece of our community's broader efforts to reach equality. We will continue to seek justice," said Monica.
Ro Khanna, US Congress candidate in California's 17 district, in his press statement on the ruling said, "I am ecstatic about the Supreme Court's decision in striking down both Proposition 8 and Defence of Marriage Act, and I join California's large and diverse LGBTQ community in celebrating this momentous victory for civil rights. It is fitting that this decision comes during Pride Month, a time when we rejoice in the strides that have been made thus far to ensure the equal treatment of all Americans."
He said, "Moments like this remind me of my grandfather who spent four years in prison for his contributions to Mahatma Gandhi's independence movement. He instilled in me the importance of standing up to injustice and the understanding that progress is always incremental. Change was slow in granting women the right to vote, legalising biracial marriage and now in legalizing same-sex marriage. While there is still much to be done to ensure equal rights for same-sex couple across the country, the court's multiple rulings today mark true progress in reversing discrimination, and in re-establishing California as an open place for citizens of all sexual orientation."
"The fight is far from over, and if elected to Congress, I will work with the growing number of representatives who believe in equal rights to implement strong anti-discrimination statutes and to enact legislation to protect LGBTQ individuals from bullying and hate crimes."