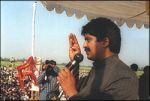 Controversial Uttar Pradesh politician Raja Bhaiya was on Thursday booked by Central Bureau of Investigation under murder charges in the killing of police officer Zia-Ul-Haq after the probe into the case was handed over to the central investigating agency.
Raghuraj Pratap Singh alias Raja Bhaiya was named in one of the four FIRs filed by CBI on the basis of complaint given by Haq's wife Parveen Azad in which the five-time independent MLA from Kunda in Pratapgarh district figured. He was earlier booked by the UP police only for criminal conspiracy.
In the case of murder of Zia, who was shot dead in Kunda while on duty on March 2, two FIRs were filed by the UP police -- one on the basis of SHO Manoj Shukla's report in which 10 people are suspects and another on the basis of complaint given by Parveen in which Raja Bhaiya along with four others were named. Raja Bhaiya is likely to be questioned by CBI in connection with the probe.
Raja Bhaiya and four others have been accused in the FIR under IPC sections related to murder, criminal conspiracy, rioting, intentional insult to provoke violence among others, CBI sources said.
Both the cases have been taken by up by the CBI for probe as referred by the state government, the sources said. 44-year-old Raja Bhaiya, who resigned as a cabinet minister after he was booked for criminal conspiracy, has a criminal record and has been jailed before.
CBI is dispatching a 10-member team of Special Crime investigation officers including forensic specialists tonight to reach the crime site in Kunda and will take over probe, sources said.
"I hope for justice in the CBI probe. CBI must not come under any political pressure," Haq's wife said.
Two other cases which are inter-related with the killing of the DSP--murders of Balipur village head Nanhe Yadav and his brother Suresh Yadav--have also been taken up by the agency for the probe making the total number of FIRs taken by CBI as four, they said.
CBI sources said the agency will start the probe on the basis of FIRs filed by the state police. They made it clear that all the accused have been named by the state government.
The agency would also take up the custody of two accused arrested by the state police--Rajeev Singh and Sanjay Singh alias Guddu Singh considered to be close aide of Raja Bhaiya, they said.
Rajeev Singh is an accused in the murder of Nanhe Yadav who was killed on March 2 at 7.30 pm in Balipur, Kunda, while Guddu Singh has been named in the FIR relating to murder of Haq and Suresh Yadav.
After getting the information about Nanhe Yadav's murder, Haq had reached the site where he along with Suresh Yadav were allegedly attacked by a mob and killed by them, FIRs alleged.
While Haq was killed at nine in the night, Suresh died 15 minutes later, it said.
In the FIR filed on the basis of complaint given by Haq's wife Parveen Azad, she has alleged," on the directions of Raja Bhaiya, Nagar Panchayat Chairman Gulshan Yadav, minister's representative Hari Om Srivastava, his driver Rohit Singh and supporter Guddu Singh first assaulted my husband with sticks and rods and later shot him dead."
The FIR filed on SHO's complaint has named 10 accused, all resident of Balipur, but it does not include name of Raja Bhaiya or his aides.
Under this FIR, the accused have been booked under IPC sections related to dacoity with murder, attempt to murder, voluntarily causing hurt to deter public servant from his duty, assault or criminal force to deter public servant from discharge of his duty among others, the sources said.
In the murder of village head Nanhe Yadav, four persons including Ajay Kumar Pal, Kamala Kumar Pal, Ajeet Singh and Raja Bhaiya's alleged aide Rajeev Kumar Singh have been named while Vijay Kumar, Sanjay Kumar Pal, Rajkumar Saroj and Guddu Singh have been named in the murder of his brother Suresh Yadav under the charges of murder and other relevant provisions.
CBI sources said agency has sought help from the inspector general of police Allahabad to probe the case and keep ready all the documents and evidence collected by them so far.
They said the state government had requested the CBI probe through a reference issued on March 5 in which four FIRs were mentioned. The Central Department of Personnel and Training (DoPT) on Thursday sent this reference to the CBI for taking up this case.
After getting the reference, CBI took up these FIRs and swung into action.
The agency sources said it would seek call data records of all the accused to understand the location of each accused at the time of incident and would also question Raja Bhaiya.
Raja Bhaiya has claimed that he is being framed by his political opponents and welcomed the CBI probe. A former Jails minister, he also claimed that Guddu Singh was in Lucknow during the mob violence.
Eight policemen including the inspector at Kunda police station in Pratpgarh district, where Haq was posted, were also suspended for fleeing the spot when the DSP was being attacked.