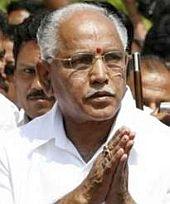 The Central Bureau of Investigation on Tuesday stated that former Karnataka Chief Minister B S Yeddyurappa and sons got a kickback of Rs 40 crore to facilitate mining baron Jindal Steel.

Filing its chargesheet in the illegal mining case on Tuesday, the agency termed Yeddyurappa as the main accused in the case.

The CBI chargesheet filed in the CBI court in Bengaluru names 12 other accused apart from Yeddyurappa. The BJP strongman's sons and son-in-law are among those named.

The chargesheet states that Yeddyurappa and his sons received illegal gratification to the tune of Rs 40 crore from Jindal Steels. In return, Yeddyurappa -- who was the chief minister then -- helped process the mining lease applications for Jindal.

Further, Yeddyurappa also banned exports of ore to enable Jindal to speculate in the local markets. Lastly, he also helped Jindal continue with a memorandum of understanding with the state-owned Mysore Minerals, which helped the company carry out mining.

Yeddyurappa is being named for the second time in a mining report. Earlier, the Lokayukta had named him following which he lost his chair. Now he will have to face trial in the CBI court and answer the charges.

The CBI, which has the power to arrest Yeddyurappa for questioning, has so far not indicated any step in that direction. He has already been questioned twice along with his sons a few months back.