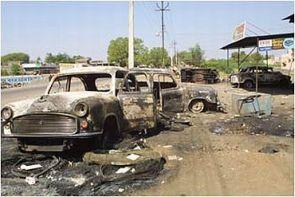 In a judgment that seeks to define the role of the National Investigation Agency, the Bombay high court has ruled that as a matter of general rule the agency cannot be prohibited from carrying out fresh investigations or re-investigations in specific cases.
A division bench comprising Justice S B Shukhre and Justice S Dharmadikari also held that by tying the hands of the NIA unduly, we would be failing in our duty to give full effect to the legislative mandate and which is expressed in plain and clear terms by the NIA Act.
A petition challenging the NIA's functioning had been filed by Malegaon blasts case accused Sadhvi Pragya Singh Thakur and others.

In their petition, they had stated that the Union Home Ministry handed over the Malegaon 2008 blasts investigation from the Anti-Terror Squad to the NIA without the consent of the Maharashtra government.

Further, the petitioners also alleged that this action was unconstitutional and that reinvestigation of any sort is illegal.
The court held that the if the NIA conducts a reinvestigation without adhering to the requisite legal mandate then the aggrieved parties are free to approach a competent criminal court.
The NIA comes into the picture in relation to the scheduled offences and for their investigation and prosecution in national interest. The offences that are carved out by these provisions and created therein have such repercussions and ramifications as ordinarily result in destabilizing the nation itself.

It is in order to ensure that sovereignty, integrity and security of the State is not threatened and if threatened by the acts of the terrorism or insurgency, then, that can be put down by heavy hands that the Parliament enacted the NIA Act.
Seeking to assure the petitioners, the high court also observed that there is adequate protection and in case of any problem a competent court can be approached.

There is a guarantee flowing from the constitutional provisions and particularly of an independent judiciary. So long as this guarantee is intact we cannot proceed on the footing that the NIA will necessarily brush aside all investigations carried out in the pending cases till date and embark upon reinvestigation necessarily.
Sadhvi Pragya Singh Thakur's counsel Ganesh Sovani told rediff.com that this order will be challenged before the Supreme Court.