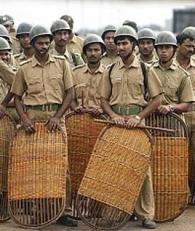 A person cannot be entitled to Y or Z category security merely on the ground of being a former minister, the Supreme Court observed on Wednesday while declining to entertain the plea of a Bahujan Samaj Party leader from Uttar Pradesh.
"If you, as a matter of fact, are not entitled under the rule for security you cannot be given security. This can't be given at the expense of the state exchequer," a bench comprising justices Gyan Sudha Misra and Madan B Lokur said.
The remarks came during the hearing of the petition filed by Ramveer Upadhyay, a minister in the previous Mayawati government, who had been stripped of his security cover when the Samajwadi Party came to power.
The Bahujan Samaj Party leader had filed an appeal against the Allahabad high court decision. The HC had not provided him any interim relief and the order on his petition had been reserved.
"The Special Leave Petition is not fit to be entertained," the bench said while adding that it was "premature".
It also said if there were any threat perceptions to the former minister, he was within his right to have private security at his expense.
The bench said the BSP leader has the liberty to move the division bench of the high court for interim security during the vacation and the high court can consider his plea after assessing the report of the committee which looks into threat perception.
"What exactly is the threat perception has to be decided by the authorities of state, the Centre, Intelligence Bureau or the concerned authority," the apex court said while making it clear that "prima facie" it was not satisfied with the arguments of the BSP leader for the need for X or Y category security.
"In our experience, we have hardly seen X or Y level security for ordinary people, however grave the threat perception," the bench observed during the hearing.
"It is a peculiar situation that you being a former Member of Parliament or Member of Legislative Assembly will have security for life time," it further said.
Upadhyay was given Y-level security cover during Mayawati's regime. The present Samajwadi Party government withdrew the protection and he was provided only an armed constable for his protection.
The court was told that he has been attacked several times and needed protection. His lawyer claimed that his security was withdrawn because of political vendetta after the change of government in the state.
While a X category protectee gets a security cover of two personnel, under Y category, there is one personal security officer and one armed guard. Z category entails a security cover of 26 personnel.