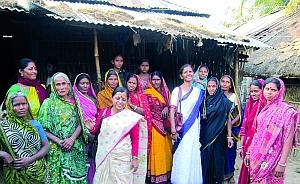 The Mahila Shanti Sena founded by McMaster University Professor Rama Singh and the university's Peace Center will launch a Love India-Clean India movement on Mahatma Gandhi's birth anniversary on October 2.
"We propose that MSS members -- who are now active in several states, including Bihar, Odisha, Madhya Pradesh, Assam, Tripura, Manipur, Arunachal Pradesh -- with the help of villagers start this movement, by forming a clean India team in each village," Singh said. "Each team will be responsible for keeping their area clean."
"Go to many towns and cities (in India), and the picture is disheartening," he added. "India's problem of widespread filth and rampant environmental pollution haunts the country in some places more than others."
Singh said he was pleasantly surprised to see Agartala, the capital of the northeastern state Tripura, remarkably clean.
He said MSS -- a Hamilton-based women's empowerment group -- had connections in eight Indian states, with Odisha being the most organised since they had representatives in 18 districts in the state.
"We are pursuing the Gandhian approach of constructive work in villages," he added. "We believe we can use MSS members at local levels to spread the message of Love India -- Clean India.
Singh, who travels to India regularly, explained that although his organisation's focus was the empowerment of women, it was moving beyond that and asking members to take responsibility and set an example.
"Women have mostly taken charge of cleaning the house. It will be an extension of that to clean the neighborhood," he added.
"But the work cannot be confined to women only. Men can equally join this movement and outside the MSS, other organisations should also do something about it."
Professor Srigopal Mohanty, vice-president, MSS, said the Indian government and the non-government organisations needed to work together to solve many of the country's problems.
The MSS will make an announcement about its campaign in Hamilton at the Gandhian Mela, September 29, to be attended by the mayor of the city of Hamilton, federal and provincial leaders, and academics from McMaster University.
Image: Mahila Shanti Sena members
Photograph: Ajit Jain