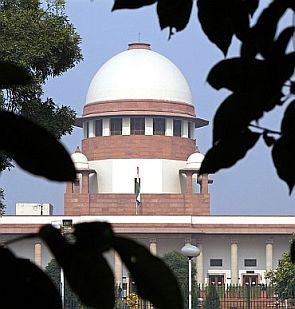 There appears to be a surprising reaction from the Supreme Court on the actions, activities and decisions of the Narendra Modi government.
A Public Interest Litigation (PIL) filed by Uttarakhand Governor Aziz Qureshi, which has been referred to a constitution bench, has alleged that the union home secretary called and asked Qureshi to resign, failing which, he would be sacked. The court has taken serious view of the matter, and Chief Justice of India R M Lodha has said that the government would have to respond to the notices within six weeks.
Realising the full dimensions of the case, Union Home Minister Rajnath Singh clarified that there is no move to remove Qureshi, and added that an appropriate reply will be given to the Supreme Court on the petition.
In yet another serious intervention, the Supreme Court has agreed to interpret the Leader of the Opposition (LoP) provision for the purposes of appointment of the Lokpal, since the LoP is a selection committee member. The court said that the LoP is a very important component (under the Lokpal Law) and needs objective consideration.
It is now interpreted differently by political parties. The Congress thinks that means that the decision taken by Lok Sabha Speaker Sumitra Mahajan to deny the post of the LoP to them was taken subjectively and objective considerations were not applied.
The speaker was advised by Attorney General Mukul Rohtagi, who said that the post cannot be given to the Congress since they do not have 55 members in the Lok Sabha, or one-tenth of the strength of the House, as the law requires.
The Supreme Court said that the LoP conveys the voice which is different from that of the government in the House. It was on the directions of the Supreme Court earlier that it was mandated that the LoP should be part of the selection committee for the Lokpal, the Central Vigilance Commission, the Central Bureau of Investigation director and other sensitive posts to ensure a balance and see that the selections were fair and not tilted towards just the ruling party.
Nobody knows what judges will finally decide on the issue, but an adverse verdict by the court could be a big setback to the Modi government where the prime minister is working overtime to consolidate all decision making powers under him, including appointments, policy decisions etc, virtually making his ministers redundant.
However, even if the Supreme Court gives a verdict against the speaker's decision, it still is not necessary for the latter to implement the court's decision, though it would lead to a furour and would be seen as a big victory for the Congress, giving them campaign points in the days ahead.