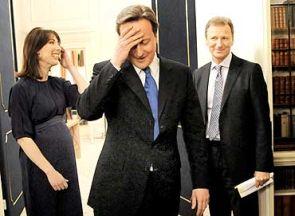 British Prime Minister David Cameron claimed that India was among a list of international governments that point the "finger of blame" for the Syrian crisis on President Bashar al-Assad.
In his statement during an emergency session of the House of Commons last week to convince MPs that Britain must join the US in taking military action against Syria, Cameron named India among the countries that would support such an action.
"In no way does the Opposition (Labour) motion even begin to point the finger of blame at President Assad. That is at odds with what has been said by NATO, President Obama and every European and regional leader I have spoken to; by the governments of Australia, Canada, Turkey and India, to name but a few; and by the whole Arab League," Cameron told the Commons on Thursday in reference to the Labour party's motion against military action in Syria.
"I think the Opposition amendment would be the wrong message for this House to send to the world... First, it refers to the deaths on 21 August but does not in any way refer to the fact that they were caused by chemical weapons.
That fact is accepted by almost everyone across the world, and for the House to ignore it would send a very bad message to the world... For that reason, I will recommend that my honourable friends vote against it," he added.
While the British prime minister went on to lose the parliamentary vote over the use of military force in Syria, India has remained non-committal on laying blame over claims that the use of chemical weapons, including sarin, had led to thousands of deaths in Damascus on August 21.
Reports suggest Cameron's reference to India as among the international governments which acknowledge the use of chemical weapons by the Assad regime may have been a "clerical" error.
Downing Street said it is looking into the statement.