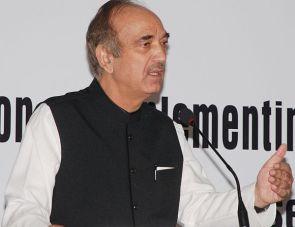 Expressing his ignorance about allegations that Justice (retd) A K Ganguly was framed for his 2G verdict, Health Minister Ghulam Nabi Azad on Monday said Union Cabinet has done whatever done in his matter.
"The Union Cabinet has unanimously passed the matter. We have done whatever could be done in the matter," Azad said. The Cabinet has already approved the proposal for sending a Presidential Reference to the Supreme Court on the issue, which was seen as a step towards his removal as the West Bengal Human Rights Commission chairman.
"I am not aware of any such thing," Azad said when asked about allegations that Ganguly was framed in the case. Justice (retd) Ganguly, who faces charges of sexually harassing a law intern, today said he was yet to take a decision on resigning from his post in the WBHRC.
He also declined to comment on his telephonic conversation with former attorney general Soli Sorabjee.
When asked to comment on the recent gang-rape and death of a 16-year-old girl in West Bengal, Azad said, "Rape is a crime, which should be condemned by all cutting across political lines. And on whether the state government has taken any action or not, I can't comment as I am not aware of it."
"We may be politicians but this is such an issue where we feel that no one should do politics," Azad said.
"We feel that every state government wants peace and prosperity in the state and no body wants violence," he said. When asked about whether he had any talks on a coalition with Mamata Banerjee during their brief meeting at a function, the Union minister said, "We didn't have any such conversation."