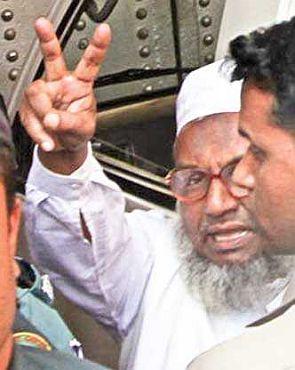 Bangladesh's Supreme Court on Thursday cleared the way for the execution of a senior leader of the fundamentalist Jamaat-e-Islami, three months after it overturned a tribunal's ruling that sentenced him to life for genocide during the 1971 war.
The apex court headed by Chief Justice M Muzammel Hossain issued the full text of the verdict given in September to award the death penalty to Abdul Quader Mollah, an assistant secretary general of Jamaat, reversing the special tribunal's verdict.
The announcement is likely to spark fresh violence at a time when the country is witnessing widespread clashes over the upcoming general elections.
"The countdown for executing the verdict began today… under the jail code the jail authorities must execute the judgement in between 21 and 28th days of receipt of the copy," senior prosecution lawyer Rana Dasgupta told PTI.

He, however, said a copy of the judgement was already sent directly to the concerned government representative or Dhaka's district magistrate, who is also the custodian of jail, to carryout the subsequent procedures under the law.
Mollah, 65, the fourth senior most Jamaat leader, is the first politician to be found guilty by the Supreme Court.

The prosecution lawyers said after the final verdict Mollah could now only seek presidential clemency within next seven days but the defence counsels said they would seek a revision of the judgement by the apex court itself under the law.
"I, however, don't think he (Mollah) has the scope to seek the revision since he was tried under a special law -- International Crimes Tribunal Act which kept no provision for such review unlike the other criminal cases tried under the ordinary law," Law Minister Shafique Ahmed told PTI.
Mollah is currently lodged in Sybarban Kashimpur Central Jail since September 18.

Mollah was arrested on July 13, 2010, while the tribunal indicted him on May 28, 2012 on six specific charges for actively participating, facilitating, aiding and substantially contributing to the attacks on unarmed civilians, "causing commission of the horrific genocides, murders and rapes".

Atrocities earned him the repute of being the "butcher of Mirpur".
This is the first such case which came for the apex court review while two war crimes tribunals are trying the high profile accused of "crimes against humanity" during the 1971 Liberation War, mostly belonging to Jamaat, which was opposed to the country's 1971 independence.

Bangladesh witnessed the launch of the war crimes trial in 2010 in line with ruling Awami League's election pledges and so far two International Crimes Tribunals indicted over a dozen people, mostly Jamaat leaders.

The two tribunals have already handed down death penalty to four and long term or life imprisonments to two others.
Officially three million people were killed in the 1971 liberation war against Pakistan during which Jamaat allegedly masterminded the murders of the country's leading intelligentsia including professors, doctors and journalists.