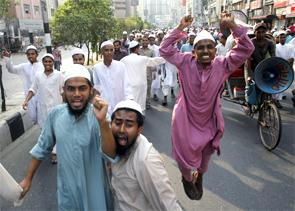 A special Bangladeshi tribunal on Wednesday sentenced opposition Bangladesh Nationalist Party's 83-year-old leader Abdul Alim to jail until death for committing large-scale killings and other war crimes during the 1971 Liberation War against Pakistan.
"He shall be kept in jail till he is dead," pronounced chairman of the three-member International Crimes Tribunal Obaidul Hassan in a packed courtroom as the wheelchair-bound Alim was brought to the dock.
Hassan said the prosecution had been able to prove Alim's involvement beyond a shadow of doubt in nine of the 17 charges, including the one of genocide.
He said Alim deserved the death sentence for his crimes but his old age and physical condition prompted the panel to relax the punishment.
"No physically or mentally unfit person should be made to face the gallows," Hassan said, adding the convict is old and cannot walk on his own.
Once a Muslim League leader, the fallen politician is the second BNP leader to be convicted and the third former minister to be found guilty of crimes committed to stop Bangladesh from emerging as a sovereign nation.
The 191-page judgment came as the prosecution lawyers in September wrapped up their arguments demanding capital punishment for Alim, while the tribunal indicted him two years ago on 17 specific charges of crimes against humanity.
According to the charges, Alim killed or ordered killings of some 600 people. In one such incident, he raided a village inhibited by minority Hindus along with his men, dragged some 370 residents out of their homes, lined them up and shot them dead at northwestern Joypurhat, his hometown.
Alim was also accused of looting, arson, deportation and detention of unarmed civilians, as he was the leader of Razakar Bahini, an auxiliary force which was manned by Bengali-speaking collaborators of the Pakistani troops in 1971.
A former minister in slain president and BNP founder Zia-ur Rahman's cabinet in late 1970s, Alim was arrested from his home in northwestern Joypurhat after the tribunal issued a warrant against him.
He obtained a bail on heath grounds but the tribunal ordered him to be resent to jail on September 22 after wrapping up the hearing.
Alim was the second BNP leader to be convicted on war crime charges.
Last week, 65-year-old BNP lawmaker Salauddin Quader Chowdhury was sentenced to death by the tribunal for genocide during the liberation war, becoming the first Member of Parliament and seventh person to be convicted of crimes against humanity.
The BNP, however, is yet to react on Alim's verdict though it earlier questioned the fairness of the war crimes trial as most of the accused were leaders of its ally Jamaat-e-Islami.
Alim was reportedly arrested by freedom fighters after Bangladesh's victory and kept for days in a steel cage in a public place in Joypurhat.
But he eventually managed to evade the peoples' wrath and later rehabilitated himself in politics to become a lawmaker and minister, joining the BNP, now being headed by former prime minister Khaleda Zia.
Hundreds of youths, who staged a vigil at Shahbagh Square in Dhaka to demand the death penalty for Alim, were disappointed with the verdict, while attorney general and other prosecution lawyers declined to directly comment on the ruling.
The defence lawyers, however, claimed they were deprived of fair justice and would appeal before the Supreme Court.
So far, two International Crimes Tribunals have indicted over a dozen people, mostly leaders of Jamaat-e-Islami. One of the accused is a local leader of the ruling Awami League.
The two tribunals earlier gave verdicts in seven cases, handing down death penalty to five and long term or life imprisonments to two others. Five of the convicts were Jamaat leaders, one is a former leader of theirs.
The trials were welcomed by tens of thousands who wanted justice for the atrocities committed during the 1971 war.
Image: Activists of Hefajat-e-Islam shout slogans as they rally in Dhaka. The activists demanded capital punishment for a group of bloggers who organised the recent Shahbagh demonstrations ' Photograph: Andrew Biraj/Reuters