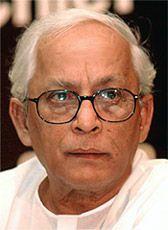 Former West Bengal chief minister Buddhadeb Bhattacharjee has questioned his successor Mamata Banerjee's honesty, prompting an angry rebuttal Wednesday from Trinamool Congress which demanded an apology from the Communist Party of India-Marxist veteran.
"I don't agree with the perception that she is honest," Bhattacharjee told a Bengali news channel Tuesday night when asked whether he agreed with the popular perception that Banerjee was honest.
Asked to elaborate, he asked the news channel to make its own investigation.
The ruling Trinamool Congress said Bhattacharjee's remarks were unfair.
"What he has said is unfair. The people of the state and his constituency (Jadavpore) have rejected Bhattacharjee. We demand that he express regret and apologise for the statement which involves a person (Mamata Banerjee) who has made selfless sacrifice for the service of the people throughout her life," Trinamool leader and municipal affairs minister Firhad Hakim told reporters at the party headquarters in Kolkata.
Taking strong exception to Bhattacharjee's comment, Hakim said, "Her (Mamata) honesty is beyond question all over India and people of West Bengal largely rely on her honesty and gave her the responsibility to serve the people."
"Such a statement is totally uncalled for at a time when the state is undergoing a spate of development projects under Mamata Banerjee's leadership," he added.
Asked if the TMC would move court, he replied, "We leave it to the people. The Trinamool Congress is a transparent party."
He said "The communists are used to making such statements amounting to personal slander only to regret later."
"It is Buddhadeb Bhattacharjee who once resigned from the Jyoti Basu cabinet as minister dubbing the government as one of thieves, but rejoined it later. This is the culture of the communists," the Trinamool leader said.
Referring to Bhattacharjee giving the present regime zero in performance, he said "One who himself is zero, how can he give zero to others?"
Image: Buddhadeb Bhattacharjee