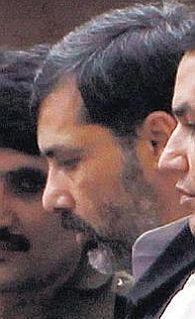 Fresh trouble seems to be on the cards for Bahujan Samaj Party MP Dhananjay Singh after a 42-year-old woman in New Delhi lodged a complaint against him of rape and criminal intimidation, police said on Thursday.
"The woman, a railway employee, has alleged that she was sexually exploited by the MP between 2004 and 2009.
"She was continuously raped by Singh at gunpoint and threatened with dire consequences if she reported the matter," said Deputy Commissioner of Police (East), Ajay Kumar.
"We have registered a case under Sections 376 (rape) and 506 (criminal intimidation) of IPC against Singh. We are taking the victim for a medical examination today and her statement will be recorded by a magistrate under Section 164 of CrPC," Kumar added.
The latest complaint against the MP from Jaunpur in Uttar Pradesh was lodged on Wednesday night at the Pandav Nagar police station in East Delhi.
Singh is currently in judicial custody after he was charged with destruction of evidence and violation of the provisions of the Juvenile Justice Act in the case involving the death of a maid at his Delhi residence allegedly after she was subjected to torture.
The MP and his wife Jagriti were arrested on November 5 in connection with the death of Rakhi, their domestic help, and the alleged "merciless" torture by them of another domestic help, a minor.

Rakhi's body, with injury marks on her legs, chest and arms, was recovered from Singh's South Avenue residence on the evening of November 4.
The minor domestic help told police that Jagriti used to regularly beat them up.
The domestic helps were allegedly tortured and thrashed by Jagriti with sticks, iron rods, clothes iron and even metallic deer horns.