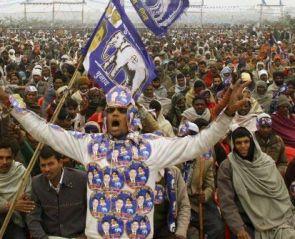 Confident of giving a tough fight to Congress and BJP, Mayawati's Bahujan Samaj Party, which surprised many by ranking third in 2008 Assembly elections with a vote share of 14 per cent, is all to set announce its candidates for all the 70 seats in Delhi.
"We are contesting on all 70 seats like we did the last time. We have already finalised our candidates for 61 seats and the announcement can come anytime now," said BSP's Delhi in-charge Ram Achal Rajbhar.
The party is banking on its traditional support base of Dalit community and trying to woo Muslims ahead of the December 4 vote.
"We will connect with people from 'sarv samaj' -- all communities. We will bring SCs, STs and Muslims together. During our regime in Uttar Pradesh not a single riot took place but both the Samajwadi Party at the state and Congress failed to prevent such incidents," said Rajbhar, who was a cabinet minister in all governments led by Mayawati.
The party has been making slow but steady strides in the national capital although the contest mainly remained between Congress and BJP in the last four assembly polls since 1993.
In 1998, the party had received around three per cent votes which soared to around nine per cent in 2003.
In 2008, the vote share increased to around 14 per cent with the party securing 8,67,672 votes and finishing third after Congress (40.31 per cent) and BJP (36.84 per cent). It holds two seats and finished second on at least five seats. The party hopes to get more than 20 per cent votes this time and win more seats.
The party's traditional vote bank has always been migrant voters of Uttar Pradesh and Bihar.
Rajbhar claimed Muslims in Delhi will vote for BSP as they were unhappy with both BJP and Congress. He said the community has been particularly anguished over the Muzaffarnagar riots and alleged that BJP, Congress and ruling SP did not come to their support.
Rajbhar, who is also BSP's Uttar Pradesh state president, said party chief Mayawati will address a number of election rallies in the national capital.
"Schedule of our party president Mayawati's election rallies in Delhi has been finalised. Once we get all the clearances, we will release it," he said.
Asked about how the BSP will counter Aam Admi Party's efforts to eat into its vote share, Rajbhar said the new entrant into politics will not be able to dent BSP's vote bank.
By taking 'broom' as election symbol, the AAP has not only been trying to send a message to "cleanse the existing system" but has also been trying to woo the Valmiki community which is considered traditional support base of BSP.
"We are trying to tell people about the ideology of BSP, what we want. We want overall development of the poor, rule of law and fear among criminals. We had got votes on these issues last time and this time again we are hopeful of getting support from all communities. Only time will tell where AAP stands," he said
BSP's arch-rival Samajwadi Party has already announced that it will field candidates for all 70 seats in Delhi Assembly polls.