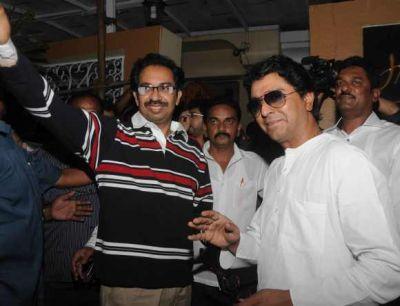 The corporate sector is learnt to have pitched in to help Bharatiya Janata Party's prime ministerial candidate Narendra Modi in uniting the warring Thackeray cousins to safeguard against a split in the anti-Congress vote in Maharashtra, reports Anita Katyal.
Having openly endorsed the 'Modi for PM' campaign, the corporate sector is now going all-out to secure the Gujarat chief minister's victory in the 2014 Lok Sabha elections. Leading industrialists based in Maharasthra are said to be particularly keen that the BJP-Shiv Sena combine returns to power in this important state.
The corporate sector has been disenchanted with the United Progressive Alliance government for quite some time now over its various policies which, it believes, had compelled investors to go abroad.
Their unhappiness gave way to fury after the Central Bureau of Investigation filed an FIR against leading industrialist Aditya Birla in the coal-gate scam. The industry has since made it clear where its loyalties lie.
Well informed sources told Rediff.com that industrialists have redoubled their efforts to ensure Modi's victory.
In Maharashtra, the industry is working overtime to supplement Modi's efforts to persuade estranged cousins -- Shiv Sena chief Uddhav Thackeray and Maharashtra Navnirman Sena head Raj Thackeray -- to sink their differences and contest the next Lok Sabha elections together on the National Democratic Alliance platform.
It is an acknowledged fact that the Congress-Nationalist Congress Party alliance has been cruising to victory in Maharashtra primarily because of the split in the Opposition vote. Realising that a patch-up between the two cousins is crucial if the NDA is to recapture Maharashtra, Modi has been working hard on uniting them.
Following his instructions, state BJP leaders, led by the party's Maharashtra chief Devendra Phadanvis, have been in touch with the Thackeray cousins to convince them to join hands.
With both sides refusing to budge, the corporate sector is learnt to have stepped in to resolve their differences.
Although the cousins were seen together at Bal Thacerkay's funeral, the two resumed their war soon after. In fact, both cousins have publicly stated on more than one occasion that there is no question of any reconciliation between them.
The more ambitious Raj Thackeray has created a niche for himself by hijacking Shiv Sena's 'pro-Maharashtrian, anti-North Indian' plank. There is no doubt that this vote would be consolidated if the cousins get together but Raj Thackeray would then end up playing second fiddle to his cousin who has inherited charge of the Shiv Sena.
On the other hand, Raj Thackeray believes he would be in a position to capture the Shiv Sena cadres and party machinery if he expands his political space and ousts Uddhav Thackeray. Consequently, neither is willing to cede political ground to the other.
However, Modi and his corporate sector supporters have not given up as they have identified Maharashtra as a key state where the BJP-Shiv Sena can pick up more seats. In fact, it is estimated that if the Thackeray cousins join hands, the NDA partners can improve their tally from the present 23 seats by adding another eight to 10 Lok Sabha seats.
It can be said that the BJP's electoral prospects in the southern states seem not very promising and the party has already reached a saturation point in its stronghold states in terms of numbers. In that sense too, Maharashtra becomes extremely crucial for the party as it hopes to expand and gain more seats here, along with Uttar Pradesh and Bihar.
Naturally, the Congress is following these developments very closely. It is particularly perturbed that the corporate sector has jumped in to help Modi in bringing about a reconciliation between the Thackeray cousins. It is making counter moves to ensure that the two do not patch up.
While several Congress leaders have been in touch with the Thackeray cousins, they have simultaneously approached the corporate sector to clear the misunderstanding which has arisen after Aditya Birla was named in the coal-gate scam. They have even sought to convince the industrialists that Modi's "arrogance and dictatorial style of functioning" will not allow him to run a coalition government which requires patience and flexibility, and that the Congress-led government is in their best interests.
Maharashtra Chief Minister Prithviraj Chavan has been in the forefront of these efforts but it is proving to be an uphill task. Prime Minister Manmohan Singh has also been advised to engage with the industrial barons and assure them that the UPA government is committed to economic reforms and would not pursue policies which would impede their growth.
In fact, he is also being asked to engage Modi publicly on key policy issues since the BJP's prime ministerial aspirant has been speaking only in generalities, having failed to spell out his vision on any substantive issue like the economy and foreign affairs. But, so far, he has not shown any inclination to take this advice.
Image: Raj Thackeray met Uddhav Thackeray at a Mumbai hospital after the latter underwent a surgery last year
Photograph: Sahil Salve