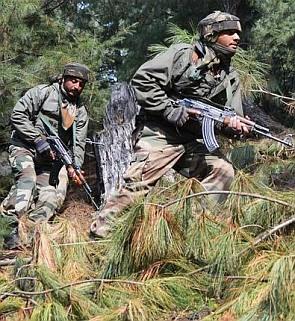 In the backdrop of the night-long firing by Pakistan Rangers targeting civilians areas and BoPs, BSF troops and the Rangers on Friday held a commandant-level flag-meeting along International Border in Samba sector of Jammu and Kashmir, during which they impressed upon each other to respect the ceasefire.
"BSF and Pak Rangers held a flag-meeting in Ramgarh sector of Samba district on Friday," a police officer said.
The commandant-level flag meeting was held at zero-line between Ballard Post of India and Imran Post of Pakistan this afternoon, he said, adding the Indian side was represented by Commandant of 126 Battalion, Hari Singh.

As per reports, two sides are reported to have impressed each other to respect ceasefire along Indo-Pak border.

Barely seven hours after the commandant-level flag meeting to resume derailed talks and prepare ground for sector commander-level flag meeting, Pakistani troops violated ceasefire "again" and resorted to firing on forward Border Out Posts and civilian areas along International Border in Jammu's Akhnoor sector.
"There was firing by Pak Rangers on BoPs and civilian areas in Devora forward belt in Pargwal sub-sector of Akhnoor teshil around 2315 hours last night and it continued till 0430 hours today," police said.
This is the second commandant-level flag meeting in series of meetings scheduled in various affected sectors ahead of formal sector commander (DIG-Brigadier) level meeting to defuse the tension and bring much needed peace on two sides of IB.
India and Pakistan on Thursday held a commandant-level flag meeting to resume the derailed talks following heaviest shelling and firing along IB since 1971 war in Jammu sector, as Pak requested a sector commander level flag meeting to defuse the situation on the border and bring peace.