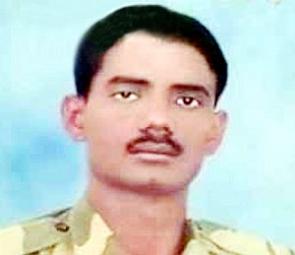 Pakistan will handover the paramilitary Border Security Force trooper on Friday afternoon, according to a senior officer.
The trooper, Satyasheel Yadav was swept away on Wednesday to the Pakistani side because of strong current in the Chenab River in the Pragwal-Khour sub-sector near Akhnoor.
The officer said that Yadav was on a patrol with three other BSF soldiers when the boat they were travelling in developed a problem. The jawan was initially spotted by some villagers and handed over to Pakistan Rangers, who turned him over to the army.
He is being held at Pakistan army's Markiwalla camp.
"A flag meeting is scheduled in the Suchetgrah sector at 3.30 pm following which the trooper will be handover to us," the officer said.
The officer added, "We got the message from the Pakistan side yesterday (Thursday)."
Image: BSF jawan Satyasheel Yadav