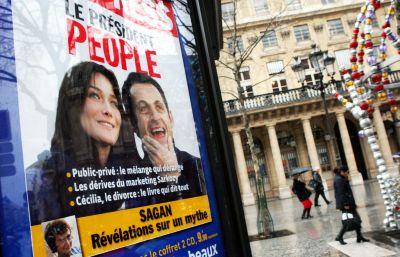 French President Nicholas Sarkozy married his girlfriend, former supermodel Carla Bruni, on Saturday morning at the Elysee Palace in Paris. 
After refusing to comment on the news initially, the President's official website confirmed it later on Saturday. 
 
Only close family members and friends of the couple attended the private ceremony. According to French law, a couple has to get married before a mayor to make the marriage official.
 
Sarkozy, who divorced his wife Cecilia in October, started dating Bruni, a supermodel-turned-pop-singer, in November last year.
 
Though Sarkozy, 53, was extremely open about his relationship with Bruni, he repeatedly refused to divulge the date of the wedding, telling his countrymen that they will get to know about his marriage only after it takes place.
 
It is the first time in the history of France that a president has married while serving his presidential term.
 
Sarkozy's relationship with Bruni had not gone down well with the French, who were taken aback by the very public display of affection by their president. The charismatic president's ratings reportedly plummeted considerably after he started dating Bruni.
 
Before Cecilia, Sarkozy was married to Marie-Dominique Culioli, with whom he has two sons, Pierre, 22, and Jean, 21. He has a 10-year-old son, Louis, from his marriage to Cecilia.
Image: The cover of L'Express news magazine, titled 'The president people', shows French President Nicolas Sarkozy with Italian singer Carla Bruni.
Photograph: Patrick Kovarik/AFP/Getty Images