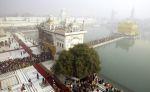 British Prime Minister David Cameron today paid obeisance at the holiest shrine of Sikh religion Golden Temple where he was presented a robe of honour.
Amid tight security arrangements, Cameron paid obeisance inside the sanctum sanctorum at 10:25 am.
Clad in a dark suit and a tie with head covered with a blue-coloured cloth, Cameron was presented a robe of honour inside the sanctum sanctorum of Harmandir Sahib, popularly known as the Golden Temple.
The British prime minister also mingled with a couple of devotees and chatted with them for a brief period as Gurbani played in the backdrop.
This is the first visit by a high-profile British dignitary to Amritsar after 1997, when Queen Elizabeth II and her husband Prince Philip, the Duke of Edinburgh, had visited the holy City.
Inside the temple, he was accompanied by Punjab Chief Minister Parkash Singh Badal, who earlier received the British dignitary at the Sri Guru RamDasji InternationalAirport,
Shiromani Gurdwara Prabandhak Committee (SGPC) President Avtar Singh Makkar, among others.
The British prime minister reached the GoldenTemple at about 9.50 am and spend nearly an hour inside.
Before paying obeisance by bowing his head inside the sanctum sanctorum, the British leader was taken around the temple by officials of the SGPC, apex religious body of the Sikhs, and was also shown Shri Guru Ram Dass Langar Hall.
Cameron had his hands folded for a brief period as he paid obeisance inside the sanctum sanctorum of the GoldenTemple, which attracts a large number of devotees cutting across faiths from different parts of the world.
Notably, Sikhs constitute a large segment of Indian origin people who are settled in the UK.
Cameron is also scheduled to visit the historic Jallianwala Bagh, which is located close to the temple.
At the Jallianwala Bagh, hundreds of Indians were killed in 1919 on the orders of the then British General Dyer.
Around 3,000 police personnel from six districts have been deployed along with other forces, as part of the tight security arrangements, which includes Israel-trained Special Weapons and Tactics (SWAT) team.
Snipers have also positioned themselves on the rooftops of the buildings situated in the vicinity of the Golden Temple, Jallianwala Bagh and at other spots from where Cameron's cavalcade is to pass.
Forces in plainclothes have also been deployed at numerous points in the city as part of beefed up security rrangements, police sources said.
On Tuesday, agencies had carried out a mock drill in view of Cameron's visit.
Meanwhile, President of Jallianwala Bagh Shaheed Parivar Samiti, Bhushan Behal, has demanded that the British prime minister should tender an apology for the 1919 massacre, "which will not only assuage the feelings of patriots and relatives of the victims, but will also confirm condemnation of brutal acts on innocent people by a British general".