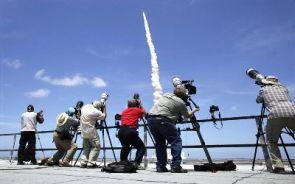 Britain will unveil new rules regulating press in the country after politicians rejected a proposal for self-regulation by the media industry.
British Culture Secretary Maria Miller told lawmakers in the House of Commons this week that the new system of press regulation will be backed by law.
We will be taking forward the cross-party charter which was debated in this House, she said.
Plans to impose new rules came up in the wake of the phone-hacking scandal involving some of Rupert Murdoch's newspaper titles in the UK.
The Leveson Inquiry was set up last year to delve into wrongdoing by tabloid journalists, following which politicians and the newspaper industry had put forward differing proposals for press regulation.
The industry proposal, which would expose newspapers to million fines but not give the state a role in regulation, had been described as the toughest regulatory regime in the free world.
The politicians proposed a statutory system that would compel newspapers to join. Publications that refuse will face exemplary damages in the event of libel.
Both plans have been considered by ministers on the Privy Council.
Miller informed MPs that the industry proposal has been rejected as unacceptable to politicians, paving the way for the politicians' plan to go ahead.
Final details of the new regulatory framework will be set out by Friday, she added.
The newspaper industry said that a regime imposed by politicians was a threat to free speech.
In a joint statement, the Newspaper Publishers Association, the Newspaper Society and the Professional Publishers Association said: Nothing could be more controversial than a Royal Charter imposed by politicians on an industry which is wholly opposed to it and which would fatally undermine freedom of expression.
The Hacked Off campaign group, which seeks tighter curbs on the press, said rejection of the industry proposal was long overdue.